Plastic surgery is one of the most common medical procedures performed. Over 7.3 million people undergo cosmetic plastic surgery procedures each year in the United States.
Whether you've always dreamed of improving your appearance or positively changing your overall health, this could be the year to take the leap and make it happen. But what exactly are the most common plastic surgery procedures nowadays?
Keep reading to learn the most commonly performed plastic surgery procedures in 2023.
1. Rhinoplasty
In 2023, Rhinoplasty remains one of the most commonly performed plastic surgery procedures. Also known as a nose job, rhinoplasty can be used to:
Aesthetically reshape the nose
Remove bumps or a hook shape
Change the bridge line
Reduce nostril size
Alter the tip of the nose
Usually, this procedure is performed using endoscopy. This allows surgeons to make precise changes to the nose while preserving the surrounding structures. In addition to aesthetic benefits, rhinoplasty can improve breathing difficulties caused by structural deformities in the nose.
2. Eyelid Surgery
Eyelid surgery enhances the appearance of the eyelids by creating a more youthful and alert appearance. It can also treat excess eyelid skin, sagging upper eyelids, puffy bags under the eyes, and eyelid droop.
In recent years, it has become a popular solution for aging eyes. This allows people to look more awake and vibrant.
Eyelid surgery can help reduce wrinkles, raise sagging skin, and reposition underlying tissues. Additionally, it can help with vision problems caused by excess skin in the upper eyelid.
3. Facelift
Facelift surgery is designed to restore a youthful look to the face by tightening and lifting the skin. This improves the appearance of wrinkles, jowls, and sagging skin around the jawline. It can also reduce the number of visible wrinkles on the cheeks and forehead.
In addition, facelifts help raise the brow line and increase volume in areas where fat has been lost. This procedure can have very natural-looking outcomes and can often be combined with other plastic surgery procedures.
4. Body Contouring
Body contouring is often used to help a person to look and feel their best. This is done by eliminating fat, tightening skin, and reshaping certain areas of the body.
The most popular body contouring procedures can vary from liposuction to abdominoplasty. This removes excess fat and skin to achieve a slimmer silhouette.
Other procedures include butt lifts to create a more voluptuous figure and neck lifts that contour the face and neck areas. Some of the latest technologies, such as laser-assisted liposuction and fat transfer, make it possible to achieve ideal body contours.
5. Breast Augmentation
With breast augmentation, a surgeon can enhance a woman's cleavage. It also helps to restore the volume lost due to weight fluctuations, aging, and pregnancy.
The procedure is tailored to each woman, and the outcome is natural-looking. Recovery time will be between 7-10 days, and a patient can expect a more symmetrical look in their breasts.
With the advancements made in the field of plastic surgery, the long-term outlook of the procedure has improved dramatically, ensuring that women can receive the best plastic surgery experience possible.
Explore the Most Common Plastic Surgery Today
Plastic surgery is one of the most requested and popular procedures in 2023. From rhinoplasty to breast augmentation, people are having different procedures done to help them look and feel their best.
Determine what body parts need to be rejuvenated. Then have a plastic surgeon discuss your options and expected outcomes. Schedule a consultation today and see how you can restore your confidence with the most common plastic surgery!
Was this article helpful? Then check out other informative content on our site.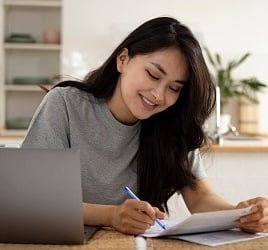 Amanda Byers is a graduate of Columbia, where she played volleyball and annoyed a lot of professors. Now as Zobuz's entertainment and Lifestyle Editor, she enjoys writing about delicious BBQ, outrageous style trends and all things Buzz worthy.