A cracked tooth happens to the best of us. At one time or another, we have all cracked a tooth or two in our lifetime. But chipping a tooth is more than a passing annoyance.
It can be painful and can cause you to experience complications both in the short term and long term. So it's important to seek professional dental care as soon as possible. There are some steps you can take to cope with the situation before your dental appointment.
Here are five tips for coping with a cracked tooth. Keep reading!
1. Rinse With Warm Water and Salt
Mix half a teaspoon of salt in eight ounces of warm water. Gently rinse your mouth with this solution for about 30 seconds, focusing on the area around the cracked tooth. This helps cleanse the mouth and alleviate any discomfort or swelling. Afterward, rinse your mouth out with regular water.
It is best to visit a dentist immediately. Start by searching Emergency Dentist near me online for a proper diagnosis and treatment plan.
2. Avoid Chewing on the Affected Side
To prevent further damage to the cracked tooth, avoid chewing on that side of your mouth. Stick to soft foods such as mashed potatoes, pasta dishes, and other softer meals to help prevent further aggravation.
Make sure to use a gentle toothbrush and brush with a light-handed circular motion when brushing the area around the cracked tooth.
3. Use Dental Wax or Temporary Filling Material
Using dental wax or temporary filling material can be an effective way to cope with a cracked tooth. This type of material can be used to fill in and seal the crack in the tooth.
Dental wax or temporary filling material can be purchased at most pharmacies. It will protect the tooth from further damage until it can be permanently treated by a dental specialist.
4. Take Over-the-Counter Pain Relief
If you're experiencing pain or discomfort, you can take over-the-counter pain relievers. Ibuprofen, aspirin, and acetaminophen are all good choices. Make sure to follow and never exceed the recommended dosage.
An over-the-counter dental cream or mouthwash made for sensitive teeth can also help to reduce pain and inflammation. Finally, if the pain persists for more than two days or if it worsens, it is a good idea to seek the help of a dentist.
5. Apply a Cold Compress
If you notice any swelling or facial pain around the chipped tooth, you can apply a cold compress to the affected area. Use an ice pack or a bag of frozen vegetables in a thin cloth. Hold it against your cheek for 10 to 15 minutes at a time.
This can help reduce swelling and provide temporary relief.
Remedies to Manage a Cracked Tooth
Coping with a cracked tooth can be daunting, but these tips can help. Try to ice the area to reduce inflammation and lessen the pain. Take over-the-counter pain relievers such as ibuprofen.
Remember, these tips are only temporary measures to help you cope with the pain until you can see a dentist. It is essential to schedule an appointment with a dental professional as soon as possible for proper diagnosis and treatment.
For more information and advice, check out the rest of our blog.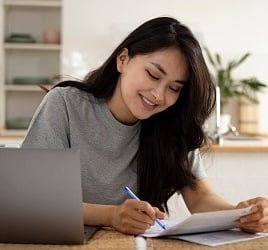 Amanda Byers is a graduate of Columbia, where she played volleyball and annoyed a lot of professors. Now as Zobuz's entertainment and Lifestyle Editor, she enjoys writing about delicious BBQ, outrageous style trends and all things Buzz worthy.