The last thing you want to do when renovating is splash out on expensive flooring – only to regret it a few months down the line, or discover that your floors aren't level. Although choosing flooring is a crucial and exciting step, you may need your floor screeding if it is uneven. That's why it pays to carefully plan the entire process.
From the natural beauty of wood floors through to the soft, cosy and warm appeal of carpet, you have several options for the Herringbone flooring. Though certain types are associated with specific rooms, thanks to modern manufacturing techniques, some products mimic the look and characteristics of others.
For example, if you've always loved the look of real wood, marble, slate or granite floors, luxury vinyl tiles (LVT) are an excellent alternative as not only do they look authentic, but they are also easier to clean and maintain.
Here are 3 things you should consider for your floor renovation project…
Usage – ask yourself what the primary function of the room is and what the floor will need to endure.
Are you picking flooring for the living room? If so, you want something warm and cosy like carpet or wood. For areas with a high footfall (e.g. the landing or hallway), laminate is preferable.
The kitchen is one of the busiest rooms in the home and is prone to spillages. With that said, you want flooring that is durable and low maintenance – try sealed stone and porcelain tiles or hardwearing wood.
You can't go wrong with slip-resistant and waterproof floors in bathrooms. Vinyl, porcelain and unglazed ceramic tiles tend to be most popular – but if you're after a warm underfoot, make sure you opt for a product that is suitable for underfloor heating.
Bedrooms are considered a sanctuary – a place to relax and unwind. Bearing this in mind, carpet is the go-to choice for many, however, solid wood floors (softened with rugs) are another a popular option.
Cost – always set yourself a realistic budget and stick to it.
Although it's great to have so many options when it comes to flooring, knowing which to choose can be tricky. Deciding on a budget will not only prevent you from overspending and feeling strapped for cash but will also help to narrow your options down.
Of course, if you can afford to splurge a significant amount, you'll discover a vast range of floors – including premium options like solid wood flooring. This type will last a lifetime if taken care of properly and is guaranteed to give the room a classic feel. Though not as easy to maintain as laminate floors, solid wood is much simpler to clean than carpet. After some years, when you feel the floor has become dull, you can call an Essex floor sanding expert to help you restore the look.
If money is tight, but you still want the maximum visual effect, cheap laminate flooring is a feasible option. Imitating the authentic look of wood, it's available in a multitude of colours and is great for almost every room in the house.
Installation – how easy is it to install your chosen flooring? And how much time do you have?
Equipped with the right DIY tools and guidance, fitting new floors shouldn't be too taxing. In fact, there are plenty of products out there that come with detailed instructions and a click system – meaning the boards simply click together. It's always better to have too much than not enough so, as a general rule of thumb, try to purchase a little more than you've calculated.
Whether you're going down the DIY route or hiring a professional, you must allow floor screed and plaster to dry completely before you introduce new flooring. Depending on the type of screed and the time of year, this can take anywhere between a few days and 6 weeks. Ideally, the longer you leave it, the better as it will reduce the risk of moisture causing issues with your newly-fitted floors.
And make sure you give your new flooring time to acclimatise to the indoor climate before installing it, particularly if you're opting for wood.
There you have it. You should now have a better idea of what is required to renovate your floors effectively. If you have any questions or require floor screeding to even out impurities before your chosen finish is applied, contact JCW – the UK's leading screed specialists.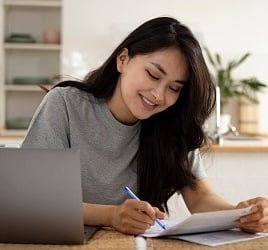 Amanda Byers is a graduate of Columbia, where she played volleyball and annoyed a lot of professors. Now as Zobuz's entertainment and Lifestyle Editor, she enjoys writing about delicious BBQ, outrageous style trends and all things Buzz worthy.