In the fast-paced world of modern education, where screens glow brighter than chalkboards, the notion of digital wellness is like a guiding star. Amidst the endless stream of information, the quest for knowledge, and the perpetual dance with technology, students find themselves navigating uncharted territory. Enter the age of online learning, where the classroom is just a click away, and the textbook is but a virtual swipe. But as we immerse ourselves in this digital sea, the call for balance grows louder. English essay help, math tutorials, history lectures – they all come to life on our screens. Yet, these screens, while gateways to knowledge, are also potential minefields when it comes to student mental health.
So, let's embark on a journey to explore the vibrant landscape of digital wellness in education. We're about to dive deep into the world of screen time, decipher the enigma of social media, and uncover strategies that nurture both minds and digital landscapes. In a time when screens are both our allies and adversaries, this article aims to be your trusty compass, guiding you toward strategies for fostering digital wellness within the hallowed halls of education. So, come along as we navigate the digital realm and chart a course towards a balanced, mindful, and mentally healthy learning experience.
Table of Contents
Balancing Screen Time and Learning
In our digital age, where screens are ubiquitous and online education is a norm, finding the sweet spot between screen time and learning has become a quest of paramount importance. The challenges posed by excessive screen time in remote and digital learning environments are multi-faceted. Students, our eager knowledge seekers, often find themselves entangled in a web of constant connectivity. The allure of social media, the demands of online assignments, and the sheer volume of content available can easily tip the scales towards prolonged screen exposure. It's not just the quantity but also the quality of screen time that matters. As best essay writers, educators, and students will attest, the more time spent staring at screens, the more we risk the negative consequences: eye strain, digital fatigue, and even the erosion of focus. It's a digital balancing act that requires mindful strategies.
So, how do we strike that delicate balance? One strategy is setting healthy screen time boundaries. Just as a good book has chapters, so should our digital experiences have defined periods. It's about allocating dedicated time for focused learning and respecting the need for digital downtime. Encouraging regular breaks, during which students can step away from screens to stretch, walk, or engage in physical activities, can do wonders. These breaks not only refresh the mind but also combat the physical toll of prolonged screen exposure. Moreover, promoting eye care by adhering to the 20-20-20 rule (looking at something 20 feet away for 20 seconds every 20 minutes) can significantly mitigate eye strain. It's all about fostering a mindful approach to screen time – one that ensures our digital tools remain allies, not adversaries, in the quest for knowledge.
Navigating Social Media in Education
In the digital age, where hashtags are as common as pencils and tweets flow like essays, the role of social media in student life cannot be underestimated. It's a realm where information travels at the speed of thought, friendships blossom with a click, and discussions on any topic under the sun are just a status update away. However, this virtual playground can be a double-edged sword, especially when it comes to student mental health. The endless scrolling, the pressure to curate a perfect online persona, and the occasional cyberbullying incidents can take a toll. But let's not throw the baby out with the bathwater. Social media also holds the potential to be a powerful ally in the realm of education and student well-being.
So, how do we navigate these digital waters? One way is to promote responsible and mindful social media usage among students. Encouraging them to be discerning consumers of content, to question sources, and to foster respectful online interactions can go a long way. It's about creating a culture of digital citizenship where empathy and respect are the keystones. But social media isn't just a minefield; it's a treasure trove of educational possibilities. Educators and institutions have started leveraging its power for educational purposes, using platforms to share resources, spark discussions, and foster online communities. It's a way to connect students beyond the classroom, transcending physical barriers to create a global village of learners. When used mindfully, social media can be a bridge that connects knowledge seekers, mentors, and resources, all while nurturing the mental well-being of students in the digital age.
Prioritizing Student Mental Health
In the digital landscape of education, where screens have become both windows to the world and barriers to our well-being, the critical connection between digital wellness and student mental health is undeniable. It's a relationship that demands our attention, nurturing, and care. As students and educators journey through the vast digital realm, it's important to acknowledge that while screens offer access to knowledge, they also harbor potential pitfalls. The constant engagement, information overload, and the pressure to perform in the virtual realm can, at times, take a toll on mental health. It's a delicate dance, but one that can be navigated with mindfulness and support.
So, how do we prioritize student mental health in the digital era? Educators and institutions can play a pivotal role by recognizing the signs of digital burnout and offering support. This includes understanding that students may face challenges like screen fatigue, anxiety, or a sense of isolation. Encouraging open communication is key; students should feel comfortable discussing their digital wellness concerns. Providing access to mental health resources, both online and offline, is essential. Whether it's counseling services, workshops on digital well-being, or simple guidelines on screen hygiene, these resources can be invaluable. Furthermore, destigmatizing seeking help for mental health issues is paramount. It's about fostering a culture where asking for support is a sign of strength, not weakness. When students know that their mental well-being is a priority, they can navigate the digital landscape with resilience, making the most of the educational opportunities while safeguarding their mental health.
Conclusion
We've unveiled the challenges of screen time, navigated the labyrinth of social media, and held up the beacon of student mental health. In this digital age, where the virtual and the real blend seamlessly, the role of digital wellness is paramount. It's about understanding that screens, while gateways to knowledge, can also be pathways to stress, and that the balance between the two lies in mindful navigation.
So, to educators, students, and institutions, here's the clarion call: let digital wellness be the cornerstone of your educational journey. It's a commitment to prioritize not only knowledge but also the well-being of those who seek it. By fostering a culture where digital tools are used with intention, by nurturing responsible social media engagement, and by making student mental health a top priority, we can embark on a digital era of learning that's not just enlightening but enriching. It's a journey that acknowledges the digital landscape's potential and pitfalls, and with mindful strategies, it harnesses the former while safeguarding against the latter. The future of education is here, and it's digital. Let's ensure it's also a future where well-being thrives alongside wisdom.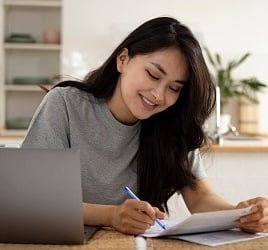 Amanda Byers is a graduate of Columbia, where she played volleyball and annoyed a lot of professors. Now as Zobuz's entertainment and Lifestyle Editor, she enjoys writing about delicious BBQ, outrageous style trends and all things Buzz worthy.