For instance, sometimes back, many people expressed their interest in the gas mower. However, there were electric mowers that people thought were useless and somehow gimmick. That doesn't apply now! Technology has transformed everything in the last 10 years and so corded and battery electric mowers are viable options. Here is the comparison of electric vs gas lawn mower by Renewable Pedia.
Electric Lawnmower
From the term electric, an electrical lawn mower uses electricity to operate. The mower could be used while connected directly to electricity (corded mower) or it could be powered by a battery. Both have different features that form the basis for their pros and cons as below.
Pros
If you are not comfortable pushing heavy mowers, then the corded option might be the right option. They are light and easy to maneuver.
Corded electric lawn mowers are easy to maintain than their gas counterparts. You only require keeping their blades sharp and keeping the machine clean, and that's all.
As long as where you want to cut the grass electricity source is available, then the corded machine will work perfectly. No need for battery or fuel to keep it running.
Cons
The most disgusting thing about corded mowers is that they should be plugged into an electricity source for it to run all the time. This can be painful and somehow difficult, especially when mowing garden beds, trees, and other obstacles while dragging a cord behind you.
Not ideal for wet conditions
You can all attest that electricity and water don't mix. Although they might take some moisture, they aren't tailored to be used in wet conditions. Utilizing them in wet areas can make it fail to perform and somehow can be dangerous.
Gas Lawnmower
A gas lawn mower has an oil reservoir and uses gasoline to run. Fill the mower with the right gasoline when it gets empty to ensure that it keeps operating as desired.
Pros
One of the greatest things about gas lawn mowers is that they possess a lot of power. Even the cheaper brands are more powerful than their battery electric-powered counterparts.
Depending on the gas tank included in your mower, they may last for several hours without adding fuel. This is beneficial, especially for people owning large lawns as the most disgusting thing you'd want in a mower is to stop and wait for it to recharge after every 45 minutes.
Undoubtedly, gas lawn mowers are usually more durable compared to electric counterparts. They are normally made from steel that is strong enough to last for years. This is particularly beneficial if the lawn you want to mow has several sticks or obstacles.
Cons
More power requires a lot of care for safety reasons. Since they are more powerful, it implies that blades are dangerous and can cut your bone or flesh easily. They can as well fling sticks and stones out at a high speed. Apart from danger caused by power, the gas model also utilizes flammable liquids as fuel. Therefore, you need to use it with a lot of care.
Gas mowers are basically heavy since they are made of heavier materials. Their heavier weight makes it challenging to push around the garden.
Final Word
This comprehensive guide of electric vs. gas lawn mowers will help you make an informed decision if you are looking forward to investing in a lawnmower. The best option will actually depend on your needs and taste. Just compare their features, pros, and cons and make a wise decision.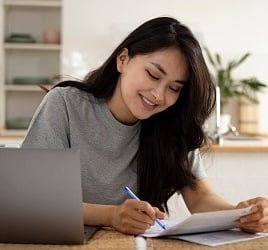 Amanda Byers is a graduate of Columbia, where she played volleyball and annoyed a lot of professors. Now as Zobuz's entertainment and Lifestyle Editor, she enjoys writing about delicious BBQ, outrageous style trends and all things Buzz worthy.