Hard water can cause many issues throughout your home, but it can also affect one of your favorite rooms: the bathroom.
Hard water in the shower can cause soap scum to build up, which can look pretty gross. It can also mean that your shower head will need to be replaced more often than a comparable one in a home with soft water, for instance.
But there are ways to limit the amount of hard water in your shower and even repair an existing shower head if you have a problem. How to fix hard water in your shower? Read on to learn more!
Table of Contents
Identify the Problem
Before taking any steps to fix the problem, you must ensure that your home has hard water. Hard water is water that has a lot of calcium and magnesium ions in it.
You can tell it's happening when white or chalky layers form on your shower fixtures, soap scum builds up on your shower walls and glass, water pressure goes down, and skin feels dry or itchy after you shower.
Install a Water Softener
Putting in a whole-house water softener is a successful and long-term way to deal with hard water. Water softeners remove the calcium and magnesium ions that make water hard and replace them with sodium ions.
This process is called ion exchange. The process keeps minerals from building up in your shower and makes your pipes and appliances last longer.
Use Water Softening Showerheads
If installing a whole-house water softener isn't feasible or necessary for your situation, you can opt for water softening showerheads equipped with a built-in shower filter, such as the Jolie Shower Head Filter Replacement. These showerheads are designed to reduce the negative effects of hard water, such as mineral deposits and dry skin.
They are relatively easy to install and offer a more affordable alternative to whole-house water softeners. While they may not provide the same level of water softening as a dedicated system, they can significantly improve your shower experience.
Clean Shower Fixtures Regularly
To address existing mineral deposits and soap scum in your shower, it's crucial to establish a regular cleaning routine. Use a descaling or limescale remover specifically formulated for bathroom surfaces and fixtures.
Follow the manufacturer's instructions closely and scrub away deposits diligently. Alternatively, a mixture of equal parts white vinegar and water can be an effective DIY solution to dissolve mineral buildup.
Switch to Liquid Soap or Body Wash
Hard water can react with soap, forming soap scum more readily. To reduce the occurrence of soap scum in your shower, consider switching from bar soap to liquid soap or body wash. These products are less likely to react with the hard water minerals, resulting in cleaner and more manageable shower surfaces.
Learn How To Fix Hard Water in Your Shower
How to fix hard water in your shower? In conclusion, fixing hard water in your shower doesn't have to be a daunting task. By following the simple tips outlined above and investing in a water-softening system, you can enjoy the benefits of softer, cleaner water in no time.
Don't let hard shower water cause you any more frustration – start implementing these solutions today and enjoy a better shower tomorrow!
Was this article useful to you? If so, be sure to check out our blog for more helpful content and resources.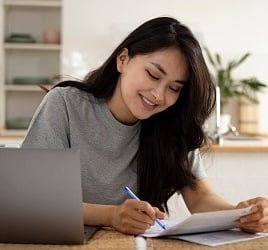 Amanda Byers is a graduate of Columbia, where she played volleyball and annoyed a lot of professors. Now as Zobuz's entertainment and Lifestyle Editor, she enjoys writing about delicious BBQ, outrageous style trends and all things Buzz worthy.