An overview of Yalda Dousti's latest artwork, a young, and talented Iranian artist, called "Tar".
Every morning, people wake up at sunrise and each of them goes to do their various activities; everyone has their lives and others are involved in it too.
If we take a step backwards to look at these flows, people's lives are like skeins of woolen yarns flowing together.
They may look very similar to each other, but they never have exactly the same colors, traits, and styles.
This phenomenon is very related to the last artwork of Yalda Dousti, a skilled and gifted Iranian artist.
In her new artwork called "Tar",
Yalda Dousti has beautifully managed to create a kind of unity between the different colors of the skeins of yarn.
Yalda Dousti has used more than a hundred colors of yarns in this work, and those attractive tonalities that have been created are all derived from the colors of the yarns themselves.
The dimensions of this work are 450 cm x 150 cm and further than 9 thousand rows are used in 26 thousand meters of yarn.
According to Yalda Dousti: it took nine months to complete this tableau, and I faced failure several times along the way and had to start from the beginning by using new methods.
The inventiveness and innovativeness of this work was one of the reasons for its greater difficulty because there was no role model before doing the desired techniques and implementing my main idea.
Finally, I was able to do it the way I wanted to execute.
I had to make an intense iron machine that has a lot of strength and resistance, and it used to speed up the work and finish it with less hardship and risk.
It took a long time to make this special machine or tool designed for the task, but with the cooperation of my brother, we managed to design it.
The first few months of work went slowly, but when I was able to entirely master a new method that had not been tried by me or anywhere else in the world; the speed of work increased, and ultimately, I was able to implement it the way I wanted it.
On a specific side of this artwork by Yalda Dousti, the combination of distinct colors and chaos can be seen in harmony, and on the other side, there is an orderly harmony.
If we consider each woolen sting as a human being on earth, we will see how they are more harmonious with people who are alike to them and how they have more creativity when they are with different people.
Generally, the strange juxtaposition in "Tar" by Yalda Dousti obviously provides that both types of interaction are necessary and practical for the world.
It is the dependence of similarities and differences that make for more growth and progress.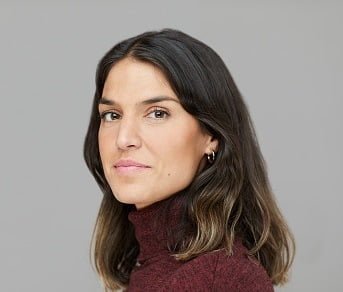 Lisa Eclesworth is a notable and influential lifestyle writer. She is a mom of two and a successful homemaker. She loves to cook and create beautiful projects with her family. She writes informative and fun articles that her readers love and enjoy.