Not so long ago, your parents were independent, active, and busy people. After hitting retirement or getting older, however, their world shifts dramatically.
They need to adjust to a new lifestyle. They've become dependent on you for so many things ever since this change occurred.
So if you're wondering what you can do to brighten their day, keep reading for 8 fun things to do with elderly parents.
1. Explore Nature
Going for a walk on a hiking trail and looking at the scenery, birds, and other wildlife can be a beautiful experience for elderly parents! Don't forget to take pictures to remember the memories. They can be framed in the home as a reminder to look back on.
2. Arts and Crafts
Crafting and creating allows elderly parents to explore their artistic side which can be a great source of entertainment. Activities such as drawing, painting, sculpting, quilting, or knitting are easy-to-follow activities for seniors that even elderly parents can accomplish.
3. Cooking and Baking
Cooking and baking can be a great way to bond. Start by sharing recipes of favorite family dishes and take the opportunity to learn from them. Make it a habit to bake something once a week together and then share the treats with family and friends.
4. Cultural Outings
Cultural outings can bring a lot of joy to elderly parents, as they can explore the places they haven't visited yet. Take a trip to a cultural museum. This can be a great way to learn more about the history and culture of the area.
5. Game Nights
You can pick a game that they used to play when they were younger or one that just allows them to have fun. These can include favorites like Mahjong, Checkers, Formula D, Scrabble, Trivial Pursuit, and many more. A game night with your parents is a great way to create a fun and lasting memory.
6. Music Therapy
Music gives elderly people the ability to express and share feelings and memories. Music therapy is a great way to get elderly parents out of their comfort zone and allow themselves to take risks and feel independent. In addition, playing instruments or singing together can act as a bonding activity for elderly parents and create a more positive atmosphere.
7. Storytelling
Storytelling can be an enjoyable and meaningful way for family members to spend time with their parents, and it offers a unique way to reconnect and reminisce. Storytelling sessions can involve gathering stories and memories as a small group or just as an individual. Not only is it great entertainment, but it also serves as a way to preserve family history.
8. Movie Night
Nothing can beat snuggling up together with some popcorn and watching a good movie. Plus, many of the films they remember can be found in a variety of streaming services. To make it extra special, rent or buy a classic film in their favorite genre.
With all the many social activities for seniors and fun things you can do with them, make sure to find an assisted living that allows scheduled bonding. A good place to start if you're looking for one would be checking for an assisted living in Fort Myers.
Have Some Fun Things to Do With Elderly Parents
Spending quality time through fun things to do with elderly parents can be a great way to show how much they are appreciated and valued. Showing that spending time with them is a priority can help create strong memories and relationships. Call your parents now to start making memories!
Visit our blog for more articles.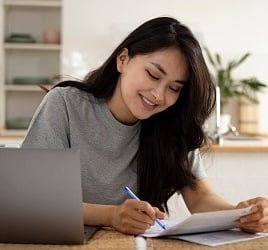 Amanda Byers is a graduate of Columbia, where she played volleyball and annoyed a lot of professors. Now as Zobuz's entertainment and Lifestyle Editor, she enjoys writing about delicious BBQ, outrageous style trends and all things Buzz worthy.