Do you feel tired of dealing with dried-out flat hair?
There are plenty of things you can do to liven it up again. There are tons of tools and methods to help fix flat hair and bring it back to life. Rather than lament on a bad hair day, use these tips to give yourself a regrowth and a lift to lift your spirits!
Read on and learn the basics of fixing flat hair.
1. Use Thermal Protectants to Preserve Flat Hair
Flat hair is a common problem – luckily, some things can help. Thermal protectants coat the hair, infusing it with nourishing oils and proteins.
This helps to protect the hair against the effects of heat styling and the environment. Using thermal protectants makes your hair more resistant to the damage caused by high heat or extreme weather conditions and stays thicker and healthier for much longer.
Thermal protectants also add shine to the hair, making it look more voluminous. Lastly, keratin treatments will help smooth the hair so it looks shiny and has no frizz.
2. Refresh Hair With Mousse for Texture
Mousses are an invaluable tool when it comes to fixing flat hair! When applying the mousse, make sure it is evenly distributed and start from the roots to the tips.
It will take a bit of playing around to find the best technique, but once you do, you'll never look back! Before blow-drying, bouffant sections upwards to add extra lift to the root and blast with cool air. With the help of mousse, you'll be able to achieve the bouncy, voluminous hair of your dreams.
3. Set Waves With Velcro Rollers
Set waves with velcro rollers is a great way to fix flat hair. These are small and relatively lightweight rollers that are inexpensive and easy to use, and they can also last for a long time, making them ideal for styling on a budget. Additionally, they can help create glamorous waves without resorting to heat styling that can be difficult to undo or potentially damage the hair.
4. Boost Volume With a Volumizing Hair Powder
A volumizing hair powder can be a great way to get more life and bounce out of dull, lackluster locks. Simply sprinkle a small amount of powder at the roots of your hair and comb through until distributed evenly.
The powder will absorb excess oils in your limp hair and linger until your next wash, giving it a much-needed lift. Not only will your hair look more voluminous, but it'll also look shinier because the powder increases light reflection.
5. Style With a Crown Braid for a Polished Look
If your hair is especially flat, there are a few things you can do to give it some volume before styling with a crown braid. Before styling with a crown braid, you may also want to lift the roots with some hair spray to add definition. To make the crown braid even more polished, use some hairspray after you complete the style to help hold everything in place.
Fast and Easy Tips for Fixing Flat Hair
Flat hair can be difficult to manage, but luckily, a few simple tricks can help. Using volumizing products like mousses and hairsprays, applying a keratin hair treatment, and occasionally changing up your hairstyle can help in fixing flat hair! Try out these tips today to revive your hair and give it a healthy, voluminous look.
Check out our other blog posts for more fashion and lifestyle tips.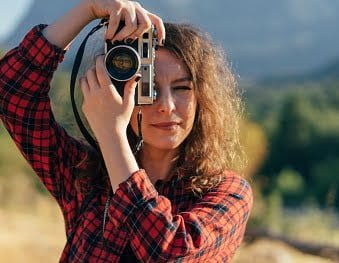 Andrea Parker is a reporter for Zobuz. She previously worked at Huffington Post and Vanity Fair. Andrea is based in NYC and covers issues affecting her city. In addition to her severe coffee addiction, she's a Netflix enthusiast, a red wine drinker, and a voracious reader.