Do you want to find a supply chain company to assist you with your business or organization? Although starting a business from the ground up is an alluring idea, organizing your company's supply chain is difficult.
How do you choose the best supply chain company for your organization?
To help you, we've compiled a list of traits of the best supply chain companies. Check out what we've got below.
Table of Contents
1. Visibility and Transparency
In their quest for supply chain greatness, the best companies know how their supply chain works and make transparency a top priority at every level. They use advanced software and data analytics to make real-time screens and reports showing a complete picture of their supply chain network. This amount of openness isn't just for people inside the company; it also applies to key partners, suppliers, and customers.
Also, there is more to transparency than just sharing facts. These organizations talk openly with their partners and keep them updated on their supply chain performance, quality control, and efforts to be more sustainable. Customers and business partners trust the company more because they can see that it is committed to honesty, accountability, and constant growth.
2. Collaboration
Collaboration is more than just a buzzword for the best supply chain businesses; it's a core value. They know that the success of their suppliers, logistics partners, and users is closely tied to their own. These organizations set up cross-functional teams to make it easier for people to work together. These teams bring together experts from different areas to solve difficult supply chain problems.
In addition to working together within their own businesses, these companies work hard to build partnerships with other businesses. Most of the time, this means sharing technology tools and systems to make it easy to integrate data and trade. Vendor-Managed Inventory (VMI) tools and collaborative forecasting, which help people work together, make it easier to work closely with sellers and make sure the right materials are bought at the right time.
3. Efficient Inventory Management
Businesses at the top of the supply chain are known for how well they keep track of their goods. More than just finding the right balance between supply and demand, these businesses use complicated inventory optimization models and demand-predicting methods. They make sure they have enough stock on hand to meet customer needs without overstocking, which can tie up money and storeroom space.
In addition, these businesses use advanced inventory management techniques like just-in-time (JIT) and lean inventory. JIT lets them get materials and parts right when needed for output. This cuts down on waste and storage costs.
Lean concepts help streamline operations by reducing the amount of extra inventory and getting rid of activities that don't add value. This organized way of managing goods cuts costs and makes the whole supply chain work better.
4. Advanced Technology Adoption
The best supply chain businesses are always on the cutting edge of new technology. They use the power of artificial intelligence (AI) and machine learning to look at huge amounts of data and find useful information. Also, they use blockchain technology to make the supply chain more open and easy to track, ensuring that goods are real and haven't been tampered with.
Also, Internet of Things (IoT) devices are a key part of monitoring and controlling assets in the supply chain. Sensors and RFID tags let goods, vehicles, and tools be tracked and watched in real time. This information is then put into centralized systems, which lets repair be done ahead of time, and routes be made better.
5. Risk Mitigation
The best supply chain businesses know that risks are a part of global supply chains and have full plans for dealing with them. They do thorough risk assessments to find possible weak spots. These assessments examine global instability, natural disasters, and supply chain disruptions. These reviews help them plan what to do if something goes wrong and find ways to reduce risks.
In addition, they stay up-to-date on new risks and market trends. This proactive method includes monitoring global events, geopolitics changes, and rules changes. By staying ahead of the curve, they can respond quickly to new problems, protecting their supply lines from disruptions that come out of the blue and reducing the damage they cause.
6. Sustainability
Sustainability has become a key focus for leading supply chain companies, especially when it comes to sourcing critical electric components. They know how important it is to run their business in a way that is good for the earth. To do this, they put environmental plans in place all along their supply lines.
They often set high goals for sustainability, like lowering carbon emissions, keeping water sources in good shape, and not making any trash. Also, these companies care a lot about where their products come from and how they do their work. They check to make sure that their sellers follow the rules of ethics when it comes to fair work and human rights.
They also work with their sellers and partners to push practices that are good for the earth and for people. When talking about sourcing components, it would be a good idea to get more information on directics.com or other related sites. That way, you'll get an overview of what we're talking about when it comes to supply chain and sustainability.
7. Customer-Centric Approach
The best supply chain businesses focus on the customer above all else. They know customers will be happy if orders are made reliably and on time.
They spend money on advanced systems for order handling and fulfillment to meet this need. These systems let customers watch their orders in real-time and give them flexible delivery options and windows. This improves the overall customer experience.
Join the Ranks of the Best Supply Chain Companies
The best supply chain companies possess leadership and innovation, sustainability, efficiency, collaboration, and resilience. From saving money on shipping costs to focusing on customer needs, these companies set the gold standard for supply chain management.
If you'd like to learn more about supply chain management and these traits, consider enrolling in a program or signing up for supply chain services.
Did you learn something new from this article? If so, be sure to check out our blog for more educational content.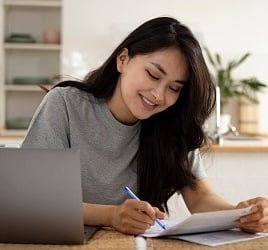 Amanda Byers is a graduate of Columbia, where she played volleyball and annoyed a lot of professors. Now as Zobuz's entertainment and Lifestyle Editor, she enjoys writing about delicious BBQ, outrageous style trends and all things Buzz worthy.