If you have aging parents, you know the challenges that come with providing care. With so many choices and decisions to make, it's difficult to know where to start.
That's why we've created this informative guide for you, our readers, to help you in caring for aging parents. So read on for more.
A Helpful Guide On Caring For Aging Parents
From understanding their changing needs to finding the right resources, we'll provide everything you need to know to make the best decisions for your loved ones through this list below.
Assessing Their Needs
It's important to be proactive in assessing their needs and ensuring their continued safety and well-being. Ask if they can care for themselves physically and mentally, can still socialize, or have any financial concerns.
When caring for them, it's also important to know the basics such as signs and symptoms of dehydration, hunger, headache and pains, and other basic needs.
Knowing all of these will make a huge difference in being able to care for your elderly parents.
Supporting Their Independence
It's difficult to watch our parents age. They may start to need help with things they once were able to do on their own. You will need to balance knowing when to help and when to respect their independence.
Encourage them to stay active, be extra patient with them, give them a healthy diet, and help them stay organized by setting up important things, and communicating with them.
Let them know you are there for them and available to help when needed, but respect their wishes to remain independent for as long as possible.
Making Their Home Safe
Aging parents may need help to keep their homes safe. Accidents can be prevented with simple fixes, like installing grab bars in the bathroom and handrails on stairs. Others such as cluttered rooms and loose electrical cords may require more substantial changes.
If you're concerned about your aging parent's safety, talk to them about making changes to their home. Help them identify hazards and brainstorm solutions. If they're resistant to change, try to be patient and understanding.
Dealing With Dementia
Dementia is a general term for a decline in mental ability that affects memory, thinking, language, and judgment. If you think your parent may have this, try to encourage your parent to see a doctor and get a diagnosis.
Once you know the cause, work on treatment plans. For example, you can help them plan their day, make sure they're getting enough exercise, and create a supportive social network.
Dealing with dementia can be difficult, but with the right support, it's possible to manage the condition and maintain a good quality of life.
Coping With Caregiving
We may also find ourselves in the role of caregiver, especially if we don't want to send our parents to a senior care facility.
A few things you can do to make the experience a bit easier is to take care of yourself. This includes getting enough rest, eating healthy, and exercising.
It is also important to ask for help when you need it. There are many resources available to caregivers, so don't be afraid to reach out. Finally, be patient and try to enjoy the time you have with your aging parent.
A Challenging Yet Rewarding Task
Dealing with an aging parent is hard, especially if you're used to seeing them independent, but caring for aging parents is a very rewarding task in the long run and a way to cherish your time with them.
If you want more informative posts, check out our blog now!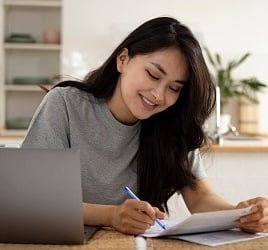 Amanda Byers is a graduate of Columbia, where she played volleyball and annoyed a lot of professors. Now as Zobuz's entertainment and Lifestyle Editor, she enjoys writing about delicious BBQ, outrageous style trends and all things Buzz worthy.