According to recent research on website design, 89% of users will leave a site with a poor UX. Therefore, websites need a layout that allows users to easily navigate to the content they want. This means that the design, layout, and ease of use of your site must be faultless. In addition to being user-friendly and quick loading on mobile devices, your website needs to compete successfully or risk losing customers to a rival.
With the best landing page builders, it's so much simpler to make highly converting landing pages that match the aesthetic of your marketing efforts. It's crucial because having a high-quality and easy landing page builder makes converting visitors into buyers much easier. But what's the key to bigger sales? Landing pages that are successful convert visitors into customers by being engaging, informative, and even entertaining. In addition, getting there is easier than ever with landing page builders like the ones I have detailed in this article.
What is BOWWE?
"A site at the level of an experienced programmer, without writing a single line of code" is one of BOWWE's slogans. From its inception, the platform has been dedicated to writing code of the highest quality possible, avoiding the dreaded "spaghetti-code." All aspects of the site benefit from the high technological level: better positioning, quicker loading times, more Google trust, etc.
To avoid this, consider employing a reliable, all-in-one platform to build and administer your business's successful website. BOWWE is a website that fits this description. Read on to learn more about the features, benefits, drawbacks, quality of customer and product support, and more that make BOWWE the perfect landing page builder for freelancers and different types of businesses.
BOWWE Features
No need to be IT, marketing or design pro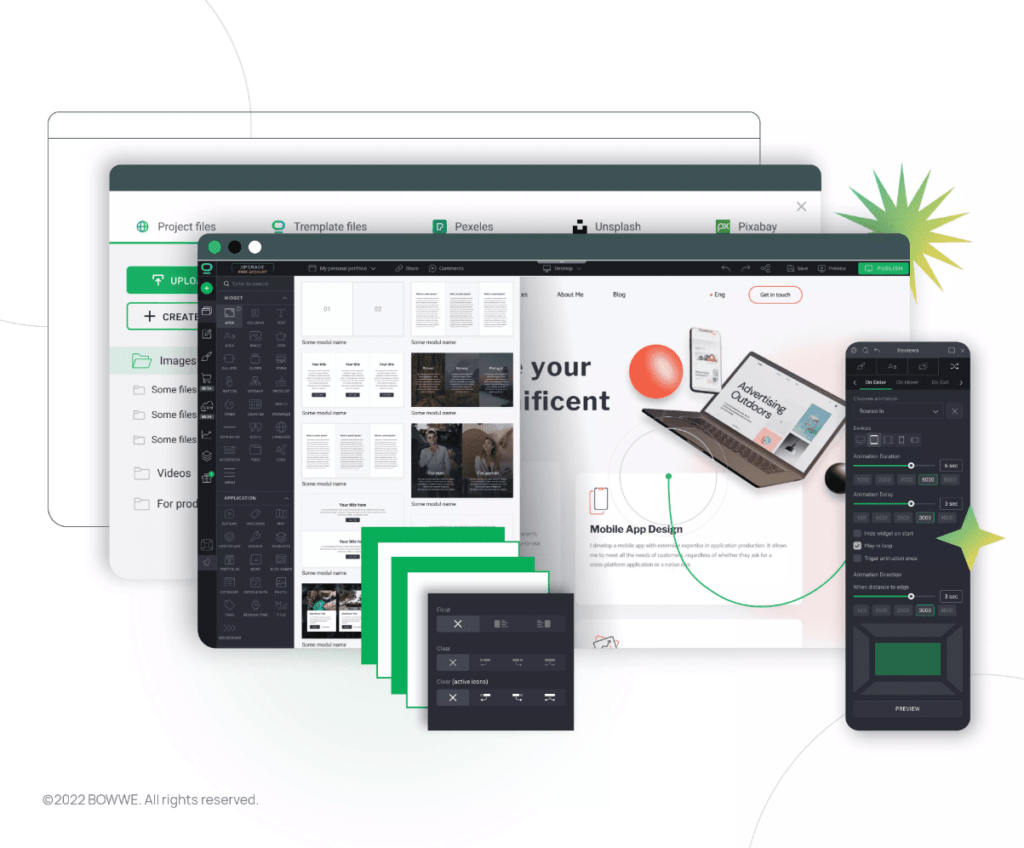 Considering that a website's aesthetics may make or break its success, BOWWE gives you extensive design options to make it possible to publish even the most graphically complex projects. In addition, you do not even have to be a graphic designer to make stunning pages because all the sections, widgets, and templates have already been changed for you.
Anyone, regardless of their level of technical competence or familiarity with IT, may use a drag-and-drop builder to create stunning, custom designs. If you've never made a website before, don't worry; with this app, you can whip up a landing page, business site, portfolio, résumé, or Micro in a matter of minutes and have it live online in no time.
Ready-to-use templates optimized for search
With BOWWE's assortment of available themes, you will have no trouble putting together a website that is tailor-made for your business. You do not need any coding skills to utilize our website builder; it is that simple! Achieving the highest possible conversion rate on your website may be accomplished quickly and easily by selecting a template from among hundreds that have already been created. Pick a layout that works for your business's niche or overall goals, and then tweak it to fit your company's identity.
As of this writing, BOWWE has barely begun work on a module to allow anyone to launch an internet store. They hope to eventually enable the development of both web and mobile apps as well. This will allow you to make any kind of digital product (website, store, app, etc.) with a consistent workflow and a single set of tools. When all features are in place, there will be no need to switch between different programs.
Available detailed stats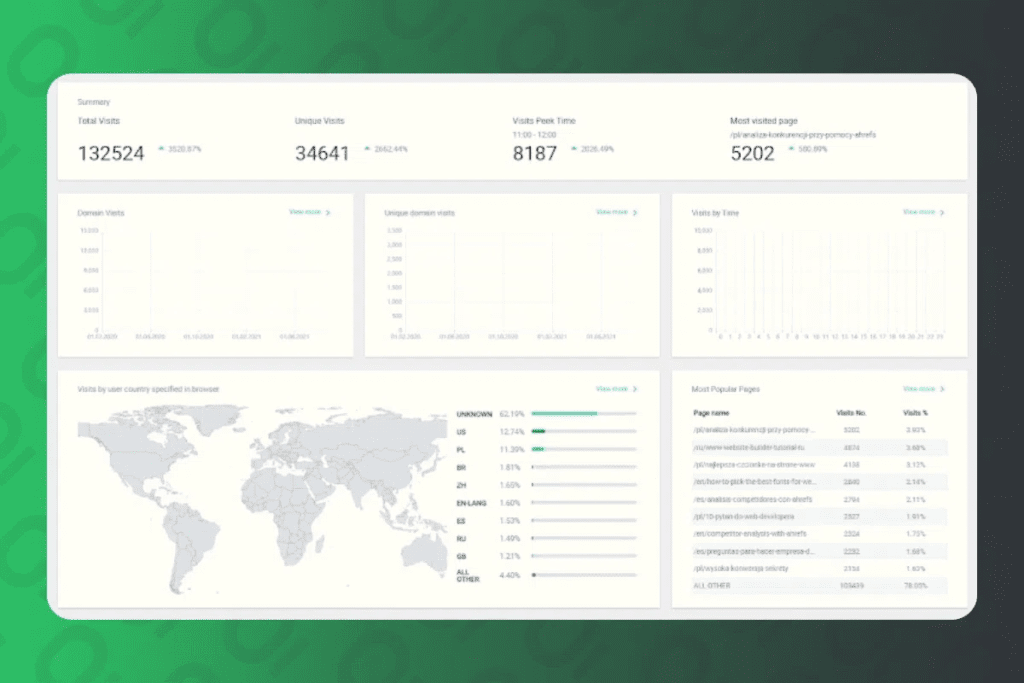 With BOWWE, you can develop a beautiful website in minutes, and it will be easy to promote your site so that you can get the most out of your marketing efforts. Detailed metrics (such as the total number of submissions, total page views, total time on site, global visitor demographics, etc.) are provided on each page to help you make informed marketing decisions.
UI Kit that makes design 10x faster
BOWWE's UI Kit makes it simple to update the look of your site by letting you swap out the fonts and colors on any page in a matter of seconds, which is especially useful if you want to make the template fit your company's own color palette and design aesthetic.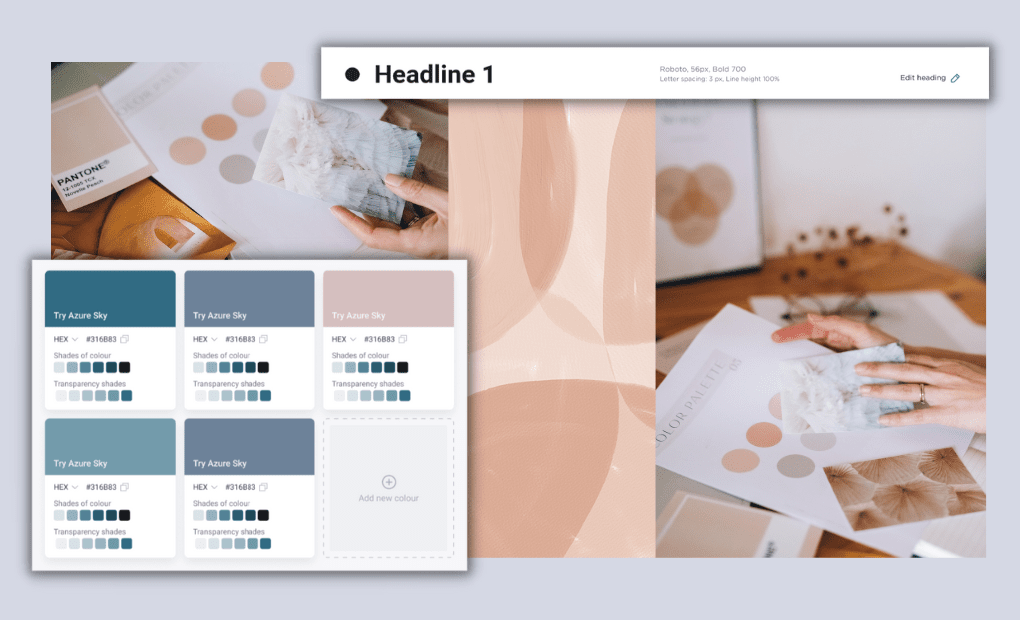 More than 30,000 people all across the world vouch for this platform because of its trustworthiness, versatility, and reliability. They debuted on AppSumo last year to much acclaim and were ultimately deemed History's Highest Scored Website & Landing Page Builder. The best part is that you can try BOWWE out for free and with no obligation by providing your credit card information.
For Whom Is BOWWE Designed?
Agencies: Seeking a straightforward method to generate several pages? If you often produce dozens or hundreds of pages for clients, this is the tool for you. As easy to use as BOWWE is, it nevertheless packs a punch when it comes to design, development, and business tools. Your business (not just you, but your entire team) can be accelerated by as much as 10 times after only a few hours of implementing the technology.
The BOWWE team provides a demo showing how easy it is to migrate a website from another content management system to BOWWE. Additionally, BOWWE offers a wide variety of effective Internal Apps, meaning you will not need to install any of the bloaty third-party plugins that can slow down your clients' websites.
Solopreneurs: If you need a beautiful landing page or website to increase conversions and sales but do not have the time to create one, this platform is perfect for you. If you start with a template you like, making changes will be quick and easy. You can always ask a BOWWE Partner for assistance if you do not feel like doing it yourself.
Developers, designers, and artists take note: BOWWE is a pixel-perfect function Object with limitless potential. You may find it difficult to understand at first, but with the help of some tutorials or a demonstration, you will soon become proficient. As time goes on, you will find yourself enjoying it more and more.
Marketers: Innovative platform with robust in-built capabilities, unlimited integrations, and useful marketing data analytics to streamline your work as a marketer. If you choose BOWWE, you can rest assured that your website will be connected to robust internal programs that will provide excellent marketing support, freeing you your time to concentrate on producing high-quality content and expanding your business. In addition, with the use of widgets like customer ratings and comments, blogs, digital coupons, and more, you will provide outstanding outcomes.
SMEs: To put it simply, BOWWE provides what modern small and medium-sized business owners want most: substantial expansion into the digital sphere. You will not have to bother the developer with every little tweak to the site because the platform provides so many tools for self-management. It is not an exaggeration to suggest that BOWWE puts you in charge and simplifies management of your whole web presence with a single interface.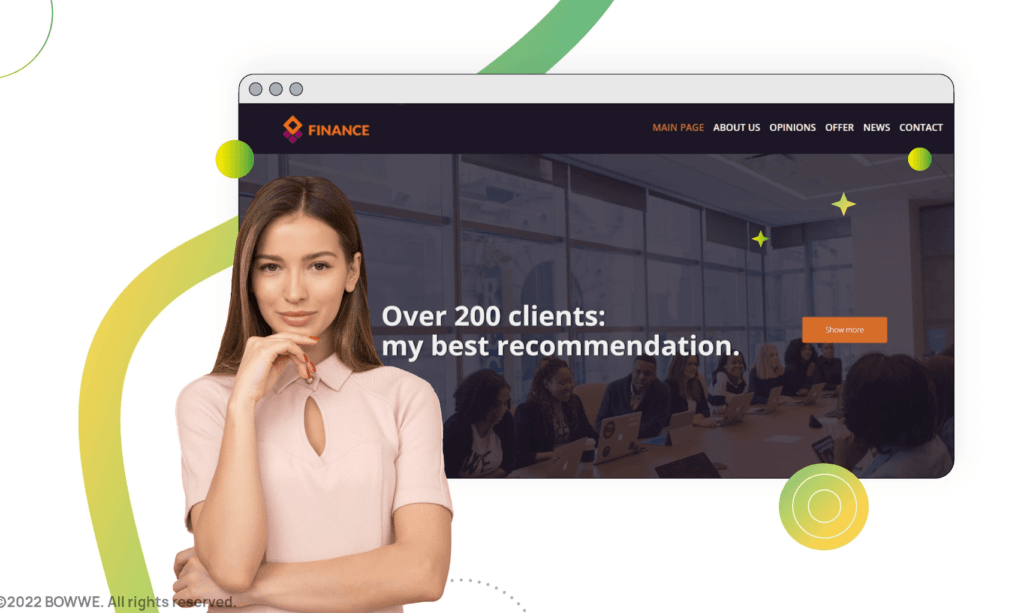 Freelancers, designers, and novice bloggers can skip learning to code and jump right into creating online content. With BOWWE, you do not need to know HTML to take use of all it has to offer because it is a No-code tool. As an added bonus, BOWWE is working on e-commerce and mobile app development components. Moreover, this is a unified solution. In other words, gaining this knowledge could be the stepping-stone to a successful professional career.
Top Attributes & Advantages of BOWWE
You can use BOWWE's many marketing and sales tools to draw more visitors to your site. In order to convince people to hire you or buy your products, you need to use the best possible templates and tools. With BOWWE's convenient unified publishing interface, you can instantly distribute your content contributions across all of your channels with just a single click. Publishing your content on your website, social media, and other portals makes marketing and advertising a breeze.
Excellent Search Engine Optimization Websites: A website is one of the most efficient ways to reach online customers, but only if they can easily find you online. Your web pages will have cutting-edge SEO thanks to BOWWE, guaranteeing high positions in search results. An additional benefit of the platform is a rapid ascent in search engine rankings thanks to the enhanced website code. Your site will have a significantly better chance of ranking highly in search engine results pages (SERPs) and receiving a disproportionately large amount of organic traffic compared to its rivals.
You do not have to have technical or e-commerce expertise to create a website optimized for search engines and promote your business online. You do not need any knowledge of web design to use the dashboard; BOWWE provides tools for web designers to optimize your site for search engines.
Create Your Own Unique Web Pages — Have no idea how to start with your layout? Okay, not a problem. Customized domains are another service the platform provides. BOWWE also has many trustworthy partners available, because of its handy tools for freelancers, who can develop a customized template according to your business's needs and preferences, all while staying abreast of the latest developments in web design. If you call BOWWE, they will direct you to the most qualified expert in your area.
In particular, the code for your websites will be of greater quality because it will be generated automatically. The standard of your site will be on par with that of any site that was painstakingly coded by hand. Few realize it, but high-quality code also affects search engine optimization (SEO), performance, site speed, and other metrics. The best part is that it will be effective in all of the crucial aspects of your business, or the business of a client of yours, and will yield excellent results.
In addition to looking fantastic on every device, the pages you create with BOWWE will also load quickly. As a result, they rise in the ranks of Google and other search engines. This is a fantastic strategy for making your website as user-friendly as possible, which will bring in more visitors and reduce the percentage of those who quickly leave.
Beautiful, speed-optimized templates: The platform comes with a plethora of these, all created specifically to meet the needs of businesses in a variety of sectors. Make the layout your own by altering the fonts, colors and other details to fit your company's identity. Everything from brainstorming to finalizing a website's design is handled within BOWWE. All you have to do is use one of the many stunning templates and hundreds of pre-made blocks, widgets, and sections to build anything you can imagine. Pixel-by-pixel, you may hone your vision until it looks just right.
This system's extreme usability is a major selling point. It has an intuitive design that lets you create any kind of page with only a few clicks. The template can be modified to suit your needs and preferences. In addition, managing the site is quick and easy. The builder has excellent usability and was made to make building a breeze. Building your next site will be a breeze, and you will be able to see stunning results in no time.
Signing up with BOWWE and using its primary features does not cost anything. In this way, you can make a website and put it online without spending any money. Sites can be developed in a dynamic fashion with the help of premium paid features. Have a look at the price list to see how much you will spend monthly / yearly on the various premium feature packages. You can pay for your membership with any major credit card, PayPal, or bank transfer.
Changing your plan's level can be done at any moment from your account's dashboard. You have the option of prepaying for an entire year. Get in touch if you're looking for something more permanent or want to transfer many pages to BOWWE. You may get your hands on free templates and other resources after creating an account on BOWWE. In a short amount of time, you can use these to set up an online store, website, microsite, portfolio, and résumé.
Why I Think You Should Use BOWWE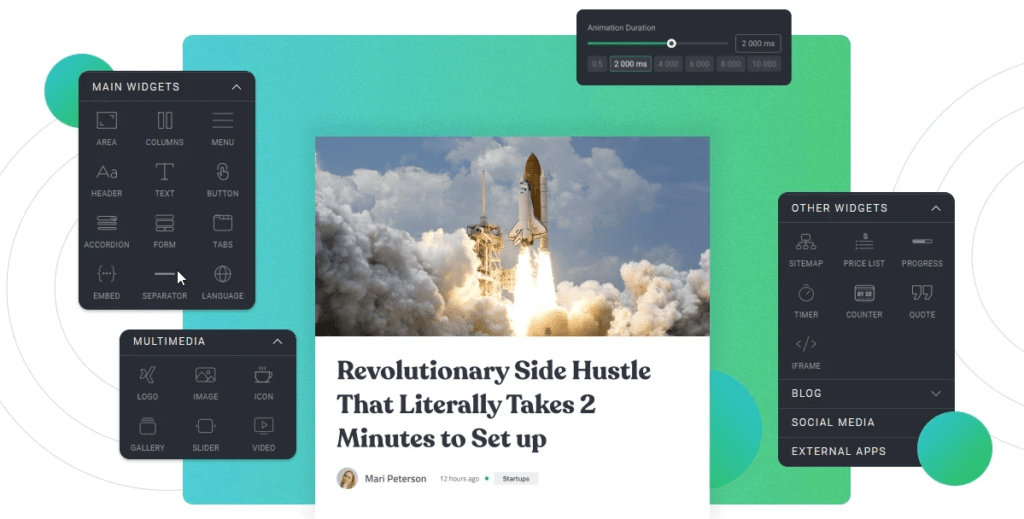 With BOWWE, there is no cap on the number of pages you can have on your website, so your growth and development are not constrained by the number of pages you can create.
Connected Programs: With BOWWE, you will have access to a variety of useful business programs, such as a scheduling tool, a client feedback system, and a portfolio. You may easily use these, leading to more conversions and a healthier bottom line in the form of skyrocketing sales.
When it comes to the safety of your website, BOWWE also offers a solution to a potentially disastrous situation: a DDoS attack that causes substantial downtimes for your organization. There is no need to fear hacker attacks on BOWWE pages because they are all spotless, have their own unique code, and are stored on extremely safe servers.
With BOWWE's powerful one-click publish function, you may distribute content to your site, social media networks, portals, and website with a single mouse click. You may now publish swiftly and kick off your marketing campaigns right away with the help of this function.
Quick and simple content updates: BOWWE makes it possible to implement and adapt a wide variety of content strategies in a matter of minutes. You may easily boost your marketing initiatives and incorporate your content into preexisting marketing plans. Enhanced Search Engine Visibility, Enhanced User Friendliness, and Increased Traffic all Result from BOWWE-Created Pages' Absolute Responsiveness. Modifying a page is now a breeze; you may make as many or as few adjustments to a page as you like, anytime you like. You can avoid continually contacting a developer for help with BOWWE.
Easy-to-navigate control panel: A user interface that is both attractive and functional will make managing your website a breeze. Achieve First-Page Results in Search Engines: Search engine rankings can be quickly raised thanks to the enhanced code provided by BOWWE. In comparison to the competition, your site will have a far better chance of earning a high position in the SERPs and consequently, a large volume of new visitors.
Due to the automatically generated improved website code, BOWWE enables you to create websites with the same quality as those developed and programmed by hand by a professional; they will be highly effective, and their results in speed tests will be much better than those of similarly sized websites built using traditional methods.
Conclusion:
Are there better website builders out there, or is BOWWE the best one I have used thus far? No, I do not think so. What I want to know is whether it ranks among the best, my current favorite, and the builders that offer the most customization options. Totally. It is hard to find a flaw in the system, what with all the ready-made layouts, flexible editing options, mobile-friendly layouts, and free stock photos it provides. As with any of my assessments, though, I caution you against taking my word for it. Do yourself a favor and check out BOWWE. We will let you try it out free for ten days before asking for payment. They also have a 30-day refund policy. That is a lot, and then some. I have faith that you will gain a deep comprehension of its capabilities.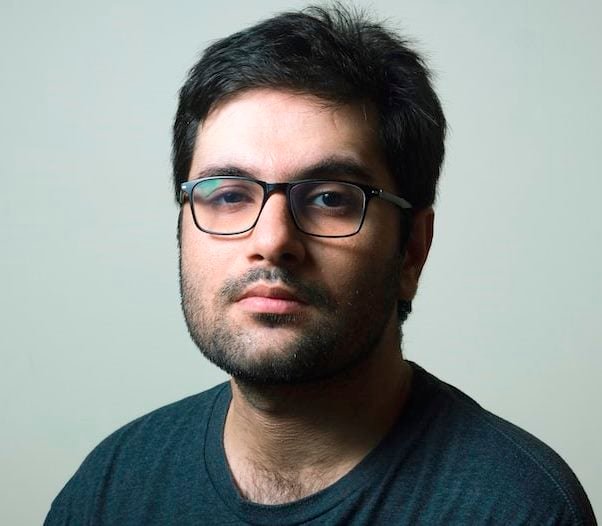 Barry Lachey is a Professional Editor at Zobuz. Previously He has also worked for Moxly Sports and Network Resources "Joe Joe." he is a graduate of the Kings College at the University of Thames Valley London. You can reach Barry via email or by phone.