When establishing and designing the ideal website, one must consider a myriad of factors, including designing graphics, picking the appropriate colours, and selecting the appropriate photos. The selection of typefaces is one aspect that many website designers and developers tend to overlook.
That is a serious error. The final appearance of our web design is significantly and permanently influenced by the font choice we make. The choice of fonts is a relatively unimportant aspect, yet it has the potential to elevate your website. In this article, let us walk you through all the crucial details you need to know about selecting the best fonts for your website design.
How to Pick a Font for Your Article and Website
When selecting the ideal typeface for your article or design project, there are many different aspects to consider.
Know the identification of your website.
Before selecting a font that will convey your website tone nonverbally, be aware of your brand identity. Create a short list of words to explain your brand identity to start. Consider using transitional serif fonts if your website is "authoritative" or "educational." A script typeface can be appropriate for you if you're "quirky" or "whimsical." Consider using a sans-serif font if you want to appear "creative" and "contemporary."
Make a note of the typefaces on websites you like.
Look up websites you like and note the typefaces they use. Take note of the impact that various lettering emphases might have on a viewer. You could wish to contrast the modernism of one brand's typography with its eccentricity.
Do some typing research.
Learn the anatomy of letterforms, how to tell one font from another, and how various lettering styles or shapes can provoke certain emotions. You can use all of this information to help you decide.
Make sure the font has a wide range of uses.
Your branding should be consistent across all platforms, including desktop websites, mobile applications, and outdoor advertisements. If there is a phrase in your logo design, make sure it is readable. You'll want something bold but readable at higher proportions if it's going to be used on billboards or other signage.
Start with a few fonts.
Choose no more than three fonts for your brand, then evaluate how the text in each one appears. Examine them both separately and side by side.
Think about the hierarchy of typography.
A typographic visual hierarchy describes how letterforms are arranged and where they can best catch the audience's attention. Consider how several typefaces work together when choosing a few for your brand.
Your sub headers typography should match your headers', and vice versa. Set up your font combinations so you may choose which lettering to use for body text and which to use for displays. Change up your styles to determine which has the finest structural design.
You also make use of commercial fonts. Commercial fonts are licensed for ANY undertaking with a profit motive.
Conclusion
One of those activities that are quite satisfying is choosing the ideal web font. You are thrilled when you manage to find the ideal synthesis. You'll want to yank your hair out when nothing seems to be working. Using the above tips, you can pick a typeface and system that are ideal for your website design tasks.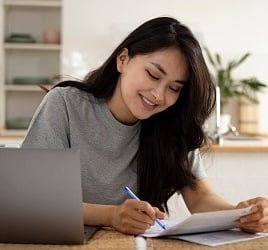 Amanda Byers is a graduate of Columbia, where she played volleyball and annoyed a lot of professors. Now as Zobuz's entertainment and Lifestyle Editor, she enjoys writing about delicious BBQ, outrageous style trends and all things Buzz worthy.