As a parent, it is natural to want the best for your child. And if you have noticed some concerning behaviors or emotions in your little one, you might be wondering about the different ways to help them cope and thrive.
One of these options is cognitive behavioral therapy (CBT), which has gained popularity as an effective treatment for various mental health conditions.
But what exactly is CBT? Is it appropriate for children?
In this blog post, we will explore these questions and more to help you make an informed decision about pursuing CBT for your child.
Identification of Specific Issues
When considering cognitive-behavioral therapy for your child, it is essential to identify the specific issues that they are struggling with. CBT is a goal-oriented approach. It aims to address and change negative patterns of thinking and behavior.
Therefore, having a clear understanding of what your child is dealing with will enable you and their therapist to customize a treatment plan suited to their needs. Some common issues that CBT can help children with include the following:
anxiety disorders
depression
obsessive-compulsive disorder
post-traumatic stress disorder
eating disorders
attention deficit hyperactivity disorder
However, keep in mind that every child's situation is unique. So it's crucial to have an individualized assessment done by an experienced mental health professional.
Age Appropriateness
While CBT for children can be effective for a wide range of ages, it's important to make sure that the techniques used are developmentally appropriate for your child. For younger children, play-based interventions may be utilized. This is to engage them and help them understand their emotions.
For older children and teenagers, more structured discussions and activities may be incorporated into the therapy sessions. It's also important to consider any specific developmental or psychological issues that your child may have.
This is especially when determining if CBT is right for them at their current age. The CBT therapist should take these factors into account when designing a treatment plan tailored specifically to your child's needs.
Goal-Oriented Approach
A goal-oriented approach means that the therapist and the child work together to set specific goals they want to achieve through therapy. These goals can range from:
managing anxiety symptoms
managing depression symptoms
improving communication skills
changing negative thought patterns
The therapist from cvlighthouse.com will help the child break down these broader goals into smaller, more manageable steps. By doing this, it makes it easier for the child to track their progress. It helps them feel a sense of accomplishment as they complete each step toward their ultimate goal.
Know First If Your Child Needs Cognitive Behavioral Therapy
Cognitive Behavioral Therapy (CBT) is an effective tool for helping children learn how to better manage their emotions and behaviors. Parents should talk to their child's healthcare professional to determine if CBT is a good choice for their child.
The best decision is to find the right fit for your child and ensure their emotional and behavioral needs are met. Get help today – talk to your local healthcare provider to find out if CBT is right for your child.
For more informative articles, visit our main blog page.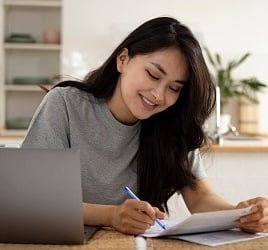 Amanda Byers is a graduate of Columbia, where she played volleyball and annoyed a lot of professors. Now as Zobuz's entertainment and Lifestyle Editor, she enjoys writing about delicious BBQ, outrageous style trends and all things Buzz worthy.