Are you tired of the smell in your house?
Odor removal can be a complicated task, especially if the smell originates from something complicated like plumbing or garbage. Different smells require different types of cleaning and removal techniques.
We created this simple odor removal guide to help you handle any scent that doesn't smell so sweet.
Table of Contents
Moisture, Molds, & Mildews
Moisture molds and mildews can create a lot of stinky smells in your home, especially when they are allowed to develop unchecked. Moisture buildup in places such as bathrooms, basements, and laundry rooms can create ideal conditions for molds and mildews to start forming and growing, causing bad household odors.
To remove this stink, it is important to address the moisture issue first. Reduce humidity levels, open windows for more ventilation, and use dehumidifiers or exhaust fans to reduce dampness and moisture.
Additionally, clean up any standing water, inspect pipes and plumbing fixtures for leaks, and repair or replace faulty plumbing lines and fixtures. Regular testing of the home's moisture levels can help to ensure that any mold or mildew growth is kept under control and that any bad smells are quickly eliminated.
Gas Leak
Gas leaks in the home are a major cause of a foul smell and can be dangerous. A gas leak can be caused by a faulty gas connection, a damaged pipe, or any other defect in the home's gas line.
It is important to identify the gas leak, and if a gas leak is suspected, it is best to contact an experienced professional to inspect the area. If a gas leak is found, the area needs to be properly ventilated, and the gas immediately shut off at the main valve.
Afterward, a licensed professional should be consulted to repair the gas leak and ensure the safety of the home. Once the gas line has been fixed, air fresheners and cleaners with an air purifying agent can be used to help deodorize the area and rid the home of the lingering smell of gas.
Dirty Laundry
One of the most common reasons that can cause a stink in your home is dirty laundry. An accumulation of laundry in your home can result in bad odors, even if you are doing your best to keep up with the laundry. If there are too many clothes and too little time, it can cause a stink in your home.
The best way to prevent this from happening is to keep up with the laundry in a timely manner. If you do not have time to do the laundry immediately, ensure that the dirty clothes are stored properly in a basket or hamper, away from the rest of the house.
To eliminate odors from some of the clothes, you can sprinkle some baking soda in the basket or hamper. You may also need to run the washing machine once a week to keep the smells at bay. Additionally, utilize a natural air-purifying product like an indoor plant or open a window or two for fresh air circulation.
Pet Odors
There can be various reasons causing a stink in your home, one of them being pet odors. Pets naturally have a musky smell, but if it becomes too strong, it is necessary to take measures to get rid of the bad odor.
Firstly, it is important to identify the source of the stench and tackle the root cause. This could be due to dirty mats, cages, or bedding. Ensure these are regularly and thoroughly cleaned and vacuumed.
Secondly, wash your pet with pet-friendly detergents and thoroughly dry them to ensure no moisture is collected. Lastly, keep your home well-ventilated by opening windows and using air fresheners.
Avoid smoking or using burning candles inside the home, as the smell of smoke easily combines with pet odors, making them difficult to remove.
Electrical Problems
Electrical problems can be the cause of a variety of strange smells in a home. A burning smell can indicate an overheated circuit, such as a short circuit. This can cause sparks and the release of ozone, which has a distinct smell.
A gaseous smell can be from insulation breaking down and releasing gases or an electrical switch or appliance that has malfunctioned and is emitting gas. Electrical problems can be dangerous and should be addressed by a professional immediately.
To remove the smell, ensure all electronics are switched off, and the circuit breaker is off, and open windows in the affected rooms to let the smell dissipate. If the smell persists, contact a certified electrician who can diagnose the problem and offer solutions to remove the offensive odors.
Old Food
Old food can cause a major stink in your home. Spoiled food can rot, go bad and turn into a breeding ground for terrible smells and bacteria, not to mention an unhealthy environment.
The best way to avoid a stink from old food is by regularly cleaning out your refrigerator and pantry. Throw away any expired food, and regularly wash down your refrigerator, shelves, and cupboards.
Also, use airtight containers or resealable bags to store food in the refrigerator after you purchase them. This will help to keep food fresh longer and keep strange odors away.
If there is already a stinky smell in the kitchen, try using natural odor removers like baking soda, activated charcoal, or essential oils. These will all help to naturally absorb and remove odors.
Check out this HVAC company to help you get rid of foul odors starting today.
Learn More About Odor Removal
Removing odors from the home can be a daunting experience. However, with the right knowledge and techniques, it's possible.
From using essential oils to charcoal, baking soda to water and Vinegar, and a range of products, odor removal can be done effectively with minimal effort. To learn more about odor removal, visit our website for more information.
Did you find this article helpful? Check out the rest of our blog for more!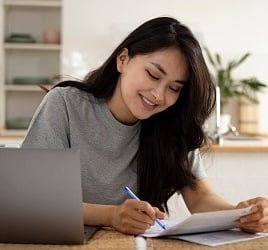 Amanda Byers is a graduate of Columbia, where she played volleyball and annoyed a lot of professors. Now as Zobuz's entertainment and Lifestyle Editor, she enjoys writing about delicious BBQ, outrageous style trends and all things Buzz worthy.