Research shows that 47 out of 50 states have banned texting while driving because it's dangerous and can have life-ending consequences for people involved in accidents.
Many texting while driving accidents occur each year. If you're still not convinced to put your phone away, we've got some critical information that you need to know.
Read on for eye-opening facts and statistics that can help you make the decision to drive smartly and safely, starting today.
Comes With Hefty Consequences
If someone is caught texting and driving, the action can have severe consequences for them. The first consequence they could face is a rise in their insurance rates, much like when someone gets into any other car accident.
Another consequence that occurs when someone's been stopped is the suspension of their driver's license. This can result in a ticket that has a fine that they must pay.
Someone Could Be Injured or Killed
Studies show 1.6 million accidents are attributed to texting while driving.
A large chunk of these accidents have claimed the lives of those that have been involved in the accident. Another thing that you need to know about texting while driving is that it could change your life and someone else's life. In addition to physical injuries, car accidents can also lead to long-term mental stress and impairment.
What to Do if You're Involved in an Accident
If you're someone that finds yourself the victim of a car accident due to the other driver texting while driving, there are things that you need to do to achieve justice. The first thing you need to do is file a police report.
Ensure that you collect the information from the other driver for future documentation purposes. You'll also need to take pictures of your injuries and vehicle to provide to your insurance company when filing your accident claim.
Next, you must seek medical attention for injuries that you've sustained as a result of the accident. The documentation provided by the medical professional who examines you will be used as evidence during your court case.
Before you think about going to court, you'll need to secure a lawyer to help work your case.
Your accident lawyer will do everything in their power to ensure that you receive the compensation you need. They can help fight for compensation to cover things like medical bills and wages lost due to the accident.
Texting While Driving Accidents: Things You Didn't Know
Texting while driving accidents happen every day. If you're someone that's been affected by one of these accidents, you must take action immediately. Don't forget to file a police report and collect the documentation needed when filing your insurance claim.
Your lawyer will use it to help get you the settlement you're looking for in your case. We hope this brief guide provided the answers you were looking for.
Looking for more trusted advice? To check out some of the other posts that we've created, continue checking out the other sections on our blo!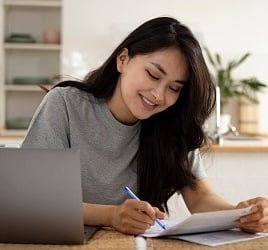 Amanda Byers is a graduate of Columbia, where she played volleyball and annoyed a lot of professors. Now as Zobuz's entertainment and Lifestyle Editor, she enjoys writing about delicious BBQ, outrageous style trends and all things Buzz worthy.