Did you know that 60, 000 Americans die every year due to wound-related infections? Whether you're a seasoned surgeon or a curious medical student, mastering the art of suturing is an essential skill in saving people from infections.
But did you know that there are different types of suture patterns for various wound closures? In this blog post, we will unravel the secrets behind five basic types of stitch patterns that every aspiring healthcare professional should know.
So grab your needles and thread, because it's time to dive into the fascinating world of stitching! Let's begin.
Interrupted Pattern
The interrupted suture pattern is the most common type of suture pattern used in surgical procedures. This type of suture pattern involves placing individual stitches at intervals along the wound.
The spacing between the stitches depends on the needs of the particular surgery. This pattern is typically used for wounds that are under a lot of tension, such as surgical incisions.
Practicing this pattern is extremely important to be effective in securing the wound edges together. This will ensure the best outcome for post-operative healing results. If you need more practice, you can purchase suture kits here.
Continuous Pattern
A continuous pattern involves using a single strand of the suture material running in a continuous line. This is helpful for applications such as closing large wounds, joining layers of tissue, and reinforcing weakened areas.
Continuous pattern sutures have proven to be advantageous as they provide a secure closure, and ensure consistent wound edge approximation. Also, they are very time-efficient when the suture pattern is running close to the wound itself.
Buried Pattern
To suture a wound, you can use buried patterns by creating stitches on the base layer of wound closure to keep tension on the wound edges. In this suturing technique, the knots are buried beneath the skin, which prevents the formation of suture marks. These sutures require special instruments to close them, as the knot must be secured to the base layer without coming through the incision.
Mattress Pattern
Mattress patterns are widely-used in suturing a wound and can be seen in any type of suturing including lacerations and incisions. This stitching pattern is the strongest of all suturing techniques and is used to close open wounds.
You can use mattress patterns by inserting two parallel sutures that are lightly approximated to the wound edge and tied together at both ends. This allows the sutures to firmly close the wound edges and make tight interlocking stitches that create a dense and protective mattress.
To increase strength and raise the tension of the sutures, use several mattress patterns. You can place it in layered arrangements, overlapping each other.
Corner Stitch Pattern
The corner stitch pattern is often used to close wounds on the corners of the mouth, as well as other areas of the body. You can create a corner stitch by making a series of small, evenly-spaced stitches along the wound. These stitches are then tied off at the corners, creating a secure closure.
Know the Types of Suture Patterns
Suture patterns are an important part of the practice of medicine and wound care. The 5 basic types of suture patterns include interrupted, continuous, buried, mattress, and corner patterns.
Each pattern has its unique features that make it better suited for different types of situations. Be sure to take careful consideration when selecting one for use.
Did you like this article? Then, make sure that you explore our website to find more articles just like this one!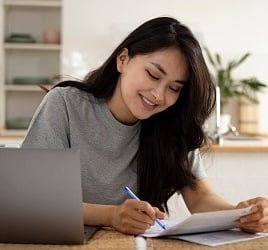 Amanda Byers is a graduate of Columbia, where she played volleyball and annoyed a lot of professors. Now as Zobuz's entertainment and Lifestyle Editor, she enjoys writing about delicious BBQ, outrageous style trends and all things Buzz worthy.