Don't let dirty shower door tracks ruin the beauty of your bathroom! Deep cleaning your bathroom might feel like a chore, but it doesn't have to be. One such task that's often overlooked is learning how to clean shower door tracks. Don't worry, we've got you covered!
With a little know-how and the right techniques, you can make your shower door tracks shine. Read on for some practical, easy-to-follow deep cleaning tips that will help make your bathroom gleam.
Why Shower Door Tracks Need Regular Cleaning
Shower door tracks can be a real nuisance, can't they? They're such a small yet significant part of your bathroom, responsible for ensuring smooth functionality.
Unfortunately, due to their design, they can easily accumulate soap scum, stubborn grime, and even mold if not properly maintained. Neglecting these pesky tracks can compromise the cleanliness and hygiene of your bathroom.
That's why it's crucial to include them in your regular deep cleaning routine. By doing so, you'll not only enhance the overall appearance of your bathroom but also contribute to a healthier and more pleasant showering experience.
Get Your Cleaning Supplies Ready
Before we embark on our cleaning mission, let's make sure we have our trusty arsenal at the ready for house cleaning. To tackle those stubborn stains and grime, gather the following items:
a bottle of white vinegar
a box of baking soda
an old toothbrush
a soft cloth or sponge
With this simple yet effective combination of cleaning supplies, you'll be armed and ready to make your living space shine like never before. They will make your cleaning method highly efficient and they are also incredibly budget-friendly. So, let's roll up our sleeves and get ready to transform your living space into a pristine haven of cleanliness and freshness.
Step-by-Step Guide on How to Clean Shower Door Tracks
Step 1: Clear Out the Tracks
The first step is to clear out any loose dirt or debris from the track. You can use a vacuum or a small brush to do this.
Step 2: Make a Cleaning Solution
Mix equal parts of white vinegar and baking soda until it forms a paste. This magic mixture works wonders on soap scum and grime.
Step 3: Apply the Solution
Apply the paste to the tracks using your old toothbrush. Let the paste sit for about 10-15 minutes to allow the vinegar and baking soda to do their work.
Step 4: Scrub and Rinse
After you've let the solution sit, it's time to scrub! Use the toothbrush to scrub the tracks and rinse with warm water. Your tracks should now be sparkling clean!
Keep Up the Good Work
Remember, maintaining a clean bathroom is all about regular upkeep. If you clean your shower door tracks every couple of weeks, it won't become a huge job.
You can also check out Paragoncleaningllc.com for professional bathroom cleaning service needs. They will ensure that all hidden areas are also cleaned, sanitized, and properly maintained.
Mastering the Art of Keeping Your Bathroom Sparkling Clean
Knowing how to clean shower door tracks is not only important but also an essential part of maintaining a pristine and hygienic bathroom. By following these easy-to-follow steps carefully, you can effortlessly bid farewell to the stubborn grime and dirt that tend to accumulate in shower tracks.
Say hello to a spotless and gleaming bathroom that will leave you feeling refreshed and satisfied! So, let's get cleaning and make your bathroom shine like never before! Happy cleaning!
For more deep cleaning tips and tricks, be sure to check out our other articles.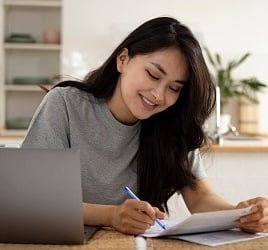 Amanda Byers is a graduate of Columbia, where she played volleyball and annoyed a lot of professors. Now as Zobuz's entertainment and Lifestyle Editor, she enjoys writing about delicious BBQ, outrageous style trends and all things Buzz worthy.