Organizing a wedding takes time, in addition to having enthusiasm and desire for it; it requires a lot of patience. The moment of choosing the music that will play on your big day is not something you should overlook. Choosing the songs that entertain and motivate your guests to dance and give it their all on the dance floor is a great decision and whether it is the most successful or not will depend on the professional DJ you hire.
As we know that this decision can be a headache, in this article we want to help you choose a good DJ for weddings in Italy so that the choice is the most suitable for you.
Tips for Choosing the Best Wedding DJ
Next, we give you some keys to choose the ideal DJ that ensures that no one is left without moving the skeleton and that it is an unforgettable day. Keep reading!
Professional DJ VS Hobbyist DJ
We know that not all couples can afford to invest too much budget in their wedding, but deciding that for that big day, the person who will be in charge of the responsibility for you to enjoy those special moments accompanied by good music is an amateur DJ, is to leave that great responsibility in inexperienced hands.
For this reason, it is advisable that you choose a wedding DJ Italy with experience in playing music and entertaining events such as, in this case, a wedding. And hence it is highly advisable not to hesitate to ask for a sample of his previous work.
It may seem logical, but it would be a pity that after all the effort and money invested in that day going as planned, it is not and with it you have a bitter memory. And you have to consider that planning an event thousands of kilometers away from where you live, since we are talking about destination weddings in Italy; require you to have great trust in the DJ.
List of Songs and Musical Repertoire
Once you have decided that a professional DJ will be in charge of the music at the wedding (excellent decision!), from here it would be convenient for you to make a list of the songs that cannot be missing at your wedding.
It is true that it is your wedding and that you have a favorite musical genre, but our advice is to put yourself in the place of your guests and choose a varied list of songs, if possible for all tastes. If the DJ has a varied repertoire that plays from eighties music to the latest musical novelties, as well as various musical genres such as salsa, flamenco, hip hop , rock , country , funk , pop , house or reggaeton, for example, you will be sure that no one sits far from the dance area.
Budget and Evaluation of Possible Extras
In this type of service, you will surely find a wide variety of prices. Being clear about the total budget for the wedding, it is important that you determine which item is aimed at hiring the DJ.
Most professionals charge based on the number of hours they will perform. That is why you need to decide if you will perform alone at the open bar or during the ceremony in the event of a civil wedding, cocktail party and banquet.
Choose from Several Professionals
Now that you have a clear list of songs and have done the appropriate research, you may have found several DJs that fit you.
Well, the time has come to move on to the next point that will be key to opting for one or the other.
Meet in Person
The last step, but not the least important, is to meet in person (or via Skype or Whatsapp video) what the DJ is like, his attitude (especially in front of the public), if he shows interest, enthusiasm, if he proposes ideas regarding music and even if you have the opportunity to attend one of his sessions to see how he performs live. This will help you a lot to decide, we are sure of it.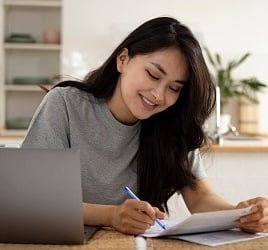 Amanda Byers is a graduate of Columbia, where she played volleyball and annoyed a lot of professors. Now as Zobuz's entertainment and Lifestyle Editor, she enjoys writing about delicious BBQ, outrageous style trends and all things Buzz worthy.