Foraging for wild ingredients has emerged as the latest culinary trend. A growing number of chefs are sourcing raw materials straight from nature to discover unique flavors and depths of taste.
By gathering wild plants, herbs, and fruits, chefs can add an extra layer of complexity to their dishes. This experience has become highly sought-after by diners – food hand-picked from nature and served on a plate is considered an unparalleled delight.
One of the most highly sought-after foraged vegetables by chefs are mushrooms. Forests, meadows, and other natural environments house hundreds of edible species, including chanterelles, morels, and porcini, that boast unique flavors and textures.
Noma, the acclaimed two-Michelin-starred restaurant in Denmark, has become famous for its ability to create a unique flavor profile through the use of wild mushrooms in their dishes.
However, selecting the most suitable fungi for food requires expert knowledge, which Master Chef Claudio Sim has in abundance. As a young boy, Chef Sim learned the art of mushroom hunting from his father while exploring the forests near his hometown, Somma Vesuviana, Campania, Italy. According to him, "It's an affordable way to enhance any dish."
He adds: "Hunting for mushrooms with my family was an excellent bonding experience. We would forage for them and use them to prepare pasta, courtesy of my mother's culinary skills. After all, foraging for sustenance is a time-honored human practice that brings us back to our roots, whether for vegetables or meat."
Wild mushrooms have emerged as a popular ingredient among top chefs, leading to the creation of some of the most unique and exquisite dishes one could ever taste.
Chef Sim initiated his culinary career in 2015 at Borgo el Maestro and La Kambusa, Ponza, Italy's highly prestigious restaurants. Following this, he worked alongside chefs from Colline Ciocare, located in Acuto, Italy.
He has previously served as the Senior Chef de Partie at The Farnham Estate, in the quaint Irish town of Cavan.
There exists an abundance of mushroom species that can be foraged, says chef Sim. Among these, chanterelles stand out as the most desirable due to their delicate flavor and meaty texture. Morels, meanwhile, feature a unique honeycomb texture and a nutty, earthy taste that is guaranteed to tantalize the tastebuds. Porcinis, with their rich, meaty flavour profile, are often utilized as a primary ingredient in dishes that require depth, such as pasta sauces, risottos, and soups.
At the age of five, Chef Sim began experimenting with cooking. During Summer Camp outings as a Boy Scout, he impressed his troop with his culinary skills, igniting his passion for food. The first dish he prepared for his family was a simple yet delicious tomato sauce that earned him their compliments and encouragement. In this nurturing environment, the budding culinary talent learned to value natural ingredients and infuse each dish with his unique twist. Today, he draws inspiration from wild herbs to craft truly exceptional cuisine.
Chef Sim is an accomplished culinary expert, having graduated in the top 15% of his class from Universita dei Sapori. He honed his skills as an event manager at the esteemed Bistro Pub in Prague, specializing in Italian cuisine. With an aptitude to manage meals for up to 60 guests, Chef Sim expertly oversaw all aspects of the menu, finances, and preparation. Later, at The Augustine luxury hotel, he single-handedly spearheaded the breakfast kitchen catering to hundreds of guests, ensuring excellence in all menus from production to execution.
Chef Sim firmly believes that serving food directly from earth to table is an incredibly enriching experience: "The process connects us to the land and the food we eat, creating a unique way to dine."
He adds this approach also enables restaurants to differentiate themselves from the competition, creating unique and memorable dishes for customers to savor time and time again.
His top tip? Chef Sim reveals: "Wild herbs exhibit a more robust and intense flavor profile compared to their cultivated counterparts. They can be a great addition to dishes."
At The Farnham Estate in Cavan Town, Ireland, Alexander Catanoiu, Head Chef, has witnessed the transformative effects of Chef Sim's mastery of wild flavors and Italian culinary techniques. He says the chef's refined palate and culinary prowess elevate dishes to unprecedented flavor and complexity: "Claudio is an expert in the culinary arts. He helped us professionally by introducing his knowledge of the Italian kitchen, thereby enhancing all the dishes with amazing Italian recipes."
Catanoiu adds: "Claudio taught us efficient ways to cook a variety of recipes and introduced a new and innovative method for making gnocchi. He also helped us optimize our food storage and preservation, making it possible for us to save food and money. He has a brilliant mind when it comes to creativity in the kitchen."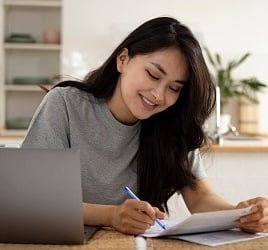 Amanda Byers is a graduate of Columbia, where she played volleyball and annoyed a lot of professors. Now as Zobuz's entertainment and Lifestyle Editor, she enjoys writing about delicious BBQ, outrageous style trends and all things Buzz worthy.