Are you a fan of gluten-free desserts? Have you been searching for the best of the best in the realm of gluten-free baked goods? If so, you've come to the right place.
There are now plenty of businesses cashing in on food fads, going all-in on gluten-free foods. While you can find decent cakes and cookies made without gluten, sometimes what goes into those foods really isn't that great for you.
To help you find high-quality gluten-free desserts for your sweet tooth, we've compiled a list of our favorites. Keep reading.
1. Homemade Ice Cream Sandwiches
Homemade ice cream sandwiches made without gluten are the perfect summer treat. They can be made with a variety of flavor combinations, depending on personal preference. Start with two cookies, either store-bought gluten-free varieties or homemade dough.
The dough can be made from a variety of gluten-free flours, like almond or coconut flour, and can be sweetened with your favorite sweetener. Spread a layer of room-temperature ice cream between the cookies, add any toppings you desire, and voila! You've created a delicious and refreshing summer treat.
2. Easy Baked Donuts
Gluten-free easy-baked donuts are the perfect treat for gluten-sensitive individuals. Made with almond flour, these indulgent treats are made in the oven for a delicious and simple snack. They are light and fluffy and have the perfect amount of sweetness. You can add toppings such as sugar, peanut butter, and cocoa powder to make them just the way you like them.
The best part about these donuts is that you can make them in minutes with only a few ingredients.
3. Eclairs With Chocolate Ganache
These eclairs are made with a combination of gluten-free all-purpose flour, sugar, butter, eggs, and salt. The chocolate ganache is made with dark chocolate, butter, cream, and a pinch of salt.
The eclairs are filled with delicious pastry cream, and then the rich chocolate ganache is spread over the top. To make the eclairs look extra tempting, they are topped with a sprinkle of chopped nuts or shredded coconut. These eclairs provide a decadent and unique combination of crunchy, sweet, and rich that is sure to satisfy.
4. Brownies That are Rich & Gooey
When baking these brownies, use a combination of gluten-free flour such as:
potato starch
almond flour
coconut flour
Eggs and oil are also essential ingredients to get the desired texture. Be sure to add in rich dark chocolate chips, cocoa powder, and vanilla extract for a rich and decadent flavor. When baking, take care to keep the temperature low and bake the brownies for a shorter period of time. Doing so helps keep the texture gooey and rich.
After baking, let them cool and slice them for a treat that is both delicious and gluten-free.
5. Paleo-Friendly Key Lime Pie
Made with almond flour and a natural sweetener, this dessert is both paleo and gluten-free, allowing individuals with dietary restrictions to indulge. The creamy custard is made with eggs and key lime juice for a sweet yet tangy flavor that will leave you wanting more.
Topped with fresh whipped cream, this pie is also dairy free, making it perfect for those with lactose intolerance.
Prepare One of These Gluten-Free Desserts and Enjoy
In conclusion, gluten-free desserts are a great way to enjoy treats without breaking a gluten-free diet. With dessert recipes ranging from healthy options to tasty indulgences, there're amazing alternatives for everyone. Try it out and experience these amazing desserts for yourself!
Interested in learning more? Feel free to check the rest of our blog today!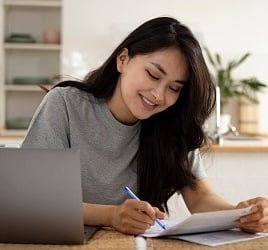 Amanda Byers is a graduate of Columbia, where she played volleyball and annoyed a lot of professors. Now as Zobuz's entertainment and Lifestyle Editor, she enjoys writing about delicious BBQ, outrageous style trends and all things Buzz worthy.