If you need help with meal prep, you've come to the right place. Sometimes, you don't have time to cook at the end of the day, but you still want to eat something healthy.
Preparing meals in advance helps you stick to your diet plan and makes them easy and convenient to consume. If you're struggling with meal prep ideas, where do you begin? What ingredients do you have, and what should you pick up from the store?
This article will share our favorite meal prep ideas with ground beef. Please continue reading for our quick and delicious beef ideas that are perfect for anyone looking for a meal prep lift.
Table of Contents
1. Five-spice BBQ meatballs
Ground beef is one of the most versatile ingredients in meal prep. Five Spice BBQ Meatballs is one of the most enjoyable and tasty recipes to make with ground beef. This meal prep is both healthy and delicious.
Combine ground beef, garlic, onions, and spices to start ground beef recipes. Once all the ingredients are mixed, form into 1-2 inch-sized meatballs. Place the meatballs onto a greased baking sheet.
Cook in an oven preheated to 375 degrees F for 25 minutes. Once done, add them to a bowl and coat them with your favorite BBQ sauce. When ready to serve, place the meatballs with your desired sides and enjoy.
2. Ground Beef & Potatoes
Ground beef and potatoes are a classic combination that will always stay in style. It is one of the meal ideas ideal for busy people who want to save time on cooking and eating healthy meals. Making a casserole is a great, easy meal prep idea with ground beef and potatoes.
You must precook some diced potatoes and ground beef in a skillet, then spread them in a baking kettle with some onions and herbs. Then, you can top the casserole with shredded cheese and bake until golden.
This meal can be prepped in advance, so you can throw it in the oven when you feel like eating. You can check out this favorite healthy meal prep service for nutritious meals.
3. Fajita Bowls With Cauliflower Rice
Ground beef is a great, budget-friendly ingredient to use for healthy meals. Fajita Bowls with Cauliflower Rice is a simple and healthy meal prep idea with ground beef.
To make this dish, cook the ground beef with your favorite spices such as chili powder, cumin, garlic powder, oregano, and salt. Chop up your favorite veggies, such as bell peppers, onions, and zucchini, and add them to the same pan. Cook until the vegetables are tender, then transfer the mixture to meal prep containers.
Cook the cauliflower rice separately according to package instructions and add it to the containers. Drizzle some olive oil and lime juice, and store in the fridge. You can reheat the fajita bowls and serve with diced avocado and salsa when ready to eat. This easy meal prep dish is full of flavor and protein, and it's great for anyone looking for a hearty and nutritious lunch or dinner.
4. Bakes and Skillets
Bakes and skillets are a great way to use ground beef to create a delicious meal without unnecessary fuss. Brown ground beef and add your favorite vegetables and a can of tomato sauce for a flavor-packed skillet.
If you're looking for something more comforting, try a shepherd's pie, with ground beef as a base combined with mashed potatoes and your favorite cheese for a classic comfort food. For a tasty bake, try a lasagna, combining ground beef, fresh lasagna noodles, tomato sauce, and cheese for a crowd-pleasing dish.
5. Tacos and Quesadillas
Two family-friendly recipes made with ground beef that are simple to prepare and make great use of leftovers are tacos and quesadillas. Prepare ground beef and season with taco seasoning for tacos-toast taco shells in a large skillet. Assemble tacos by adding ground beef, cheese, lettuce, tomato, salsa, and sour cream and serve.
Quesadillas are easy to make by warming a large skillet over medium heat and then layering the ground beef, cheese, and other ingredients (sautéed onions, bell peppers, jalapenos) onto a flour tortilla. Cook for 3-4 minutes on each side until the cheese is melted and golden brown. Serve with diced tomatoes, sour cream, and lettuce for a delicious meal!
6. Garlic Noodles With Beef and Broccoli
One of the ground beef recipe ideas is garlic noodles with beef and broccoli! To make it, start by browning the ground beef in a pan until it has cooked through. Add minced garlic and cook for a minute or two, then add broccoli florets and stir fry until slightly softened.
The noodles are boiled in a separate pot and drained after cooking. To finish the dish, add the beef and broccoli to the noodles and drizzle with soy sauce for flavor. This dish can be served hot or cold, making it a tremendous prep-ahead meal throughout the week.
7. Korean Beef Bowl
Easy meal ground beef recipes are great for busy weeknights. One delicious idea is to make a Korean Beef Bowl. You only need some ground beef, gochujang (Korean red pepper paste), green onion, garlic, sesame oil, and white rice.
Start by sautéing ground beef with white onion, garlic, and green onion in a skillet. Once the meat is cooked through, add cooked white rice and sauté it until evenly mixed. Now add in the gochujang and sesame oil and mix it until everything is well combined.
You can top it with an extra sprinkle of green onion for garnish and serve. You have a delicious, flavorful beef bowl meal with simple ingredients in minimal time. Meal prepping this dish is straightforward since it tastes both hot and cold; that way, you can easily pack it for lunch or dinner the next day!
Check Out These Amazing Meal Prep Ideas With Ground Beef
Ground beef is a versatile and economical option for easy meal prepping. With a few ingredients and freezer space, you can combine delicious, budget-friendly meal prep ideas with ground beef.
So, the next time you're meal prepping, try one of these delicious ideas to make your week easier. Be sure to experiment and enjoy all the delicious but easy meal prep possibilities with ground beef!
If you enjoyed this article and would like to read more like it, check out the rest of our blog now!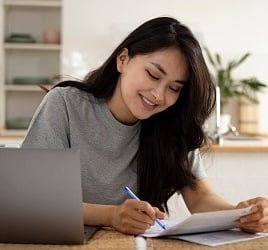 Amanda Byers is a graduate of Columbia, where she played volleyball and annoyed a lot of professors. Now as Zobuz's entertainment and Lifestyle Editor, she enjoys writing about delicious BBQ, outrageous style trends and all things Buzz worthy.