Chronic pain affects millions of people worldwide, significantly impacting their quality of life. Common solutions often involve medication, such as painkillers, or more drastic measures like surgery. But what if the key to managing chronic pain lies in something as simple as the right stretching equipment?
This article from Castleflexx will explore the role specialized stretching tools can play in managing chronic pain. We'll look at how the right equipment can make a tangible difference, offering a non-invasive alternative to medication and surgery.
Understanding Chronic Pain
What is Chronic Pain?
Chronic pain is defined as pain that persists for more than three months, often lasting far beyond the point of tissue healing. Common causes include:
Injuries: Such as back or neck injuries that don't heal properly.
Medical Conditions: Like arthritis, fibromyalgia, or migraines.
Surgery: Post-operative pain can sometimes become chronic.
Physical and Psychological Impact
The physical impact of chronic pain is more than just the discomfort; it can lead to reduced mobility, muscle tension, and even changes in posture. Over time, this can result in a vicious cycle where pain leads to less activity, which in turn exacerbates the pain.
Living with chronic pain, particularly hip and back pain, isn't just a physical burden; it's a psychological one as well. Conditions like anxiety and depression are common among those dealing with chronic pain. Explore fast acting pain relief products to fight constant pain that can lead to emotional stress, affecting mental health
Traditional Approaches to Chronic Pain
Common Treatments
Painkillers like opioids and NSAIDs are often the first line of treatment. They offer quick relief but are not a long-term solution.
For severe cases, surgical intervention like spinal fusions may be considered. Surgery aims to correct anatomical issues causing the pain.
Exercises and stretches under the guidance of a physical therapist can help improve mobility and alleviate pain.
Limitations and Side Effects
Medication: While effective for immediate relief, medications come with a host of side effects. These can range from gastrointestinal issues to the risk of addiction, particularly with opioids.
Surgery: Surgical procedures are invasive and come with their own set of risks, including infection and the potential for the pain to persist post-surgery.
Physical Therapy: While generally safer, physical therapy is not always effective for all types of chronic pain. It's also time-consuming and may require a long-term commitment.
The Role of Stretching in Pain Management
Stretching can be a valuable component in the management of chronic pain. It helps improve flexibility, increases blood flow to the muscles, and can break the cycle of muscle tension and pain. By enhancing range of motion, stretching can also correct postural issues that contribute to pain.
Why Equipment Matters
The Importance of the Right Tools
Using the right stretching equipment can be a game-changer in managing chronic pain. While basic stretches can be performed without any equipment, specialized tools can target specific muscle groups more effectively, offering a deeper and more therapeutic stretch.
Benefits of Specialized Stretching Tools
Targeted Relief: Specialized tools can focus on particular muscles or joints that are pain points, providing targeted relief. This is something basic or no equipment can't offer.
Variable Resistance: Some specialized stretching tools come with adjustable resistance levels. This allows for a more dynamic stretching routine, which can be tailored to your pain management needs.
Safety: Using the right equipment can also minimize the risk of injury. Specialized tools are often designed with ergonomic features that ensure you're stretching in a safe and effective manner.
Consistency: Quality equipment can make stretching more comfortable, encouraging regular practice. Consistency is key in any pain management strategy, and the right tools can help you stick to your routine.
CastleFlexx: A Solution Worth Considering
CastleFlexx offers a variety of specialized stretching tools designed to elevate your pain management routine. Their product lineup includes the Luxury Edition for comfort-focused stretching, the Sport Edition for dynamic and athletic stretching, and the Youth Edition for younger users.
Designed for Pain Management
Each CastleFlexx product is engineered with pain management in mind:
Targeted Stretching: The patented "foot hammock" in the Luxury Edition, for example, is designed to alleviate plantar fasciitis pain effectively.
Variable Resistance: The Sport Edition comes with a detachable magnetic weight, allowing you to adjust resistance levels to suit your pain management needs.
Ergonomic Design: All CastleFlexx products feature ergonomic handles and grips, ensuring that you can stretch safely and comfortably, reducing the risk of further pain or injury.
Unique Features for Chronic Pain Sufferers
Adaptability: CastleFlexx tools can be used in various positions—sitting, standing, or lying down—making them adaptable to different types of chronic pain conditions.
Material Quality: Made from durable, high-quality materials, these tools are designed for long-term use, making them a cost-effective solution for chronic pain management.
User Guides: CastleFlexx products come with comprehensive user guides that include specific stretches for different types of pain, making it easier for chronic pain sufferers to get the most out of their equipment.
Real-world Applications
Practical Advice for Incorporating CastleFlexx Tools
Consult Your Physician: Before starting any new pain management routine, consult your healthcare provider. Once cleared, you can integrate CastleFlexx tools into your regimen.
Start Slow: Begin with basic stretches using the CastleFlexx Luxury Edition, which is designed for comfort and ease of use.
Progress Gradually: As you become more comfortable, consider incorporating the Sport Edition for dynamic stretches, using the variable resistance feature to tailor the routine to your needs.
Follow User Guides: CastleFlexx products come with comprehensive guides that include specific stretches for various types of pain. Make use of these to maximize the effectiveness of your routine.
Consistency is Crucial: Like any pain management strategy, the benefits of CastleFlexx tools will be most noticeable with regular use.
Other Complementary Therapies
While specialized stretching tools like those from CastleFlexx can play a significant role in managing chronic pain, they're most effective when used in conjunction with other therapies and lifestyle changes. Here are some complementary approaches:
Physical Therapy
Working with a qualified physical therapist can provide you with a tailored exercise regimen that addresses your specific pain points. This professional guidance can enhance the effectiveness of your stretching routine.
Acupuncture
This traditional Chinese medicine technique involves inserting thin needles into specific points on the body. It's been shown to be effective in treating various types of chronic pain, including back pain and migraines.
Mindfulness and Meditation
Mindfulness techniques and meditation can help you become aware of your pain without reacting to it emotionally. This can be a powerful tool in managing the psychological aspects of chronic pain.
Diet and Nutrition
Inflammation is a common cause of chronic pain. Adopting an anti-inflammatory diet rich in fruits, vegetables, and lean proteins can help manage pain symptoms.
Heat/Cold Therapy
Applying heat or cold packs to affected areas can provide temporary relief from pain. Heat therapy is good for relaxing and loosening tissues and stimulating blood flow, while cold therapy can reduce inflammation.
Over-the-Counter Topical Treatments
Creams and gels containing ingredients like menthol or camphor can provide temporary relief from pain when applied to the skin. These can be used in conjunction with stretching tools for added relief.
Conclusion
Chronic pain is a pervasive issue often managed through medication or surgery. Specialized stretching tools like CastleFlexx offer a non-invasive alternative. Designed for targeted relief and complemented by other therapies, these tools can be a valuable part of a comprehensive pain management strategy. If you're dealing with chronic pain, it's worth considering specialized equipment as a viable option.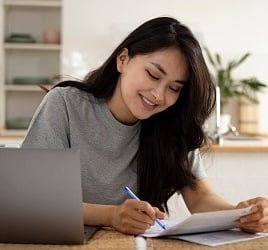 Amanda Byers is a graduate of Columbia, where she played volleyball and annoyed a lot of professors. Now as Zobuz's entertainment and Lifestyle Editor, she enjoys writing about delicious BBQ, outrageous style trends and all things Buzz worthy.