Beautiful views, fresh air, and fun are all part of the camping experience. Cold, boring food doesn't need to be. Think about what you might like to eat or new recipes to try. Cooking food can give you the opportunity to have different types of meals and try new things while you're enjoying the outdoors. A stove may be an excellent selection since it's a portable and easy-to-use way to heat a wide range of foods.
Table of Contents
Do You Need a Stove When Camping?
The decision of whether or not you need a camp stove depends on various factors. Make sure you consider them carefully to determine if you need to bring one along.
Camping Style
Car campers can bring more equipment. A stove can enhance your camping experience by allowing you to prepare hot and delicious meals. It's easy to carry it in the car and it can be unpacked quickly when you arrive. If you're hiking to the campsite, you may want to limit the weight you carry. A stove may not work well for this, as the fuel can be heavy and cumbersome to bring in a backpack.
Meal Plans
If you're a food enthusiast who enjoys preparing elaborate meals in the great outdoors, a stove becomes a valuable tool. You can cook fresh ingredients, simmer sauces, and enjoy a wider variety of meals. If you just want simple and easy, you may benefit from ready-to-eat meals and may not need to bring the stove along.
Campsite Facilities
Modern campsites may have options available for heating meals, but it depends on the location and availability. In more remote and primitive camping areas, where amenities are limited, a portable stove is almost essential. It allows you to prepare hot meals without relying on campfires, which might be prohibited due to environmental concerns.
Dietary Restrictions
If you have specific dietary restrictions or preferences, a camp stove can be invaluable. You'll have control over your meals and can pack foods that will meet your needs. Many ready-to-eat meals are not made with allergens in mind, so this can make it much easier for you to find foods that you can enjoy during the trip. It is always better to be safe when it comes to dietary restrictions.
Group Size
The number of people in your camping group can influence your decision. Cooking for a large group is more efficient with a stove, as it allows you to prepare multiple servings simultaneously. However, even if you have a small group, it can be helpful for cooking amazing meals during the trip.
Safety When Using a Propane Camping Stove
Propane camping stoves are essential tools for outdoor enthusiasts, providing a convenient way to prepare hot meals while camping. However, like any open flame or gas-powered device, they require careful handling to ensure safety.
Read the Instructions
Before using a propane camping stove, thoroughly read and understand the manufacturer's instructions and safety guidelines provided in the user manual. Familiarize yourself with the specific features and operation of your model. It's best to do this well ahead of the camping trip, and it won't hurt to test it out before you go.
Choose a Suitable Location
Use the stove in a well-ventilated area to prevent potential issues. Cooking inside a tent or other enclosed space can lead to carbon monoxide buildup. Place it on a stable, flat surface to prevent it from tipping over while it's turned on or being used.
Check for Leaks
Before each use, inspect the propane hose and connections for any visible damage or wear. Make sure all connections are tight and secure. Perform a leak test using a soapy water solution. Apply the soapy water to all hose and valve connections. If you see bubbles forming, it indicates a propane leak. Turn off the gas immediately and repair or replace the faulty components. Refer to the manual for more information before use.
Propane Cylinder Safety
Ensure you use propane cylinders that are designed for camping stoves and are in good condition. Never use damaged or expired cylinders. When not in use, store propane cylinders in an upright position, away from direct sunlight, and in a cool, dry place. Never overfill propane cylinders. Follow the manufacturer's guidelines for safe filling levels. When transporting propane cylinders, ensure they are secured in an upright position and well-ventilated. Keep them away from heat sources and open flames.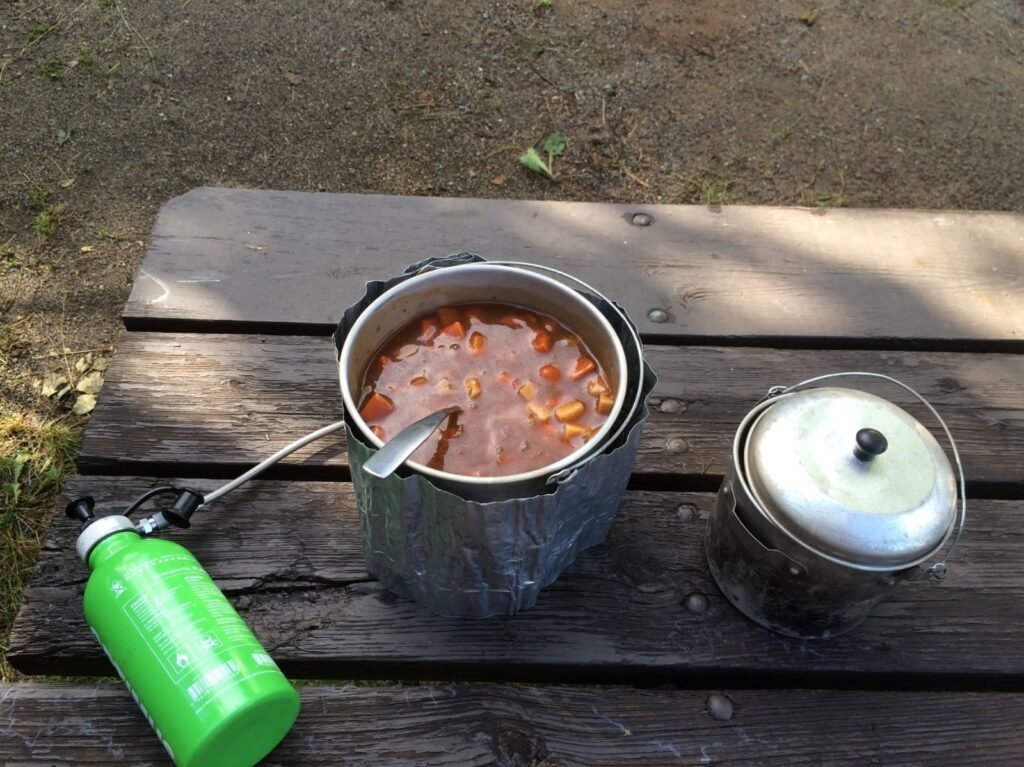 Ignition and Lighting
Most propane camping stoves come with built-in ignition systems. Utilize these systems rather than lighting it with matches or lighters. When lighting it, keep your face and body away from the burner. Use a long lighter or match for added safety. Always maintain a safe zone around it to prevent children and pets from accidentally coming into contact with the hot stove or knocking it over.
Stay Attentive While Cooking
Never leave a propane camping stove unattended while it's in operation. Cooking can require your full attention to prevent accidents. Wind can affect the flame and potentially blow it out, so use windshields or screens to protect the flame from gusts of wind. Never use flammable liquids like gasoline or alcohol to start or accelerate the fire in your stove.
Extinguish Flames Safely
Before extinguishing the flame, turn off the propane supply at the valve on the cylinder. Allow the flame to burn off any residual gas in the line. Use a pot or pan lid or a stove-specific cover to smother the flame and prevent flare-ups. Keep a well-equipped first aid kit and a fire extinguisher nearby in case of emergencies. Ensure you know how to use them effectively.
Follow Leave No Trace Principles
Dispose of empty propane cylinders properly, following any local regulations or guidelines. Pack out all trash and litter, leaving your campsite cleaner than you found it.
What to Cook While Camping
Cooking on a camping stove can be a delightful experience, offering a wide range of culinary possibilities while you enjoy the great outdoors.
Breakfast Options
A delicious, warm breakfast is the perfect way to start the day.
Campfire Breakfast Burritos: Prepare scrambled eggs, cooked sausage or bacon, and diced vegetables like bell peppers and onions. Roll them up in tortillas and add cheese for a hearty breakfast.
Pancakes: Bring along pancake mix and cook up a stack of fluffy pancakes. Top them with maple syrup, fresh berries, or whipped cream.
Oatmeal: Cook instant oatmeal, and customize it with toppings like honey, nuts, dried fruits, and cinnamon.
Eggs and Bacon: Classic breakfast fare, scrambled or fried eggs and crispy bacon, are easy to prepare on a camping stove.
Lunchtime Delights
Enjoy a quick and easy lunch while you're camping.
Grilled Cheese Sandwiches: Make grilled cheese sandwiches using a portable skillet or griddle. Add tomato slices or bacon for extra flavor.
Quesadillas: Fill tortillas with cheese, veggies, and your choice of protein (chicken, beans, or even leftovers from the previous night's dinner) for a quick and satisfying lunch.
Instant Noodles: Boil water and prepare instant ramen or pasta. Customize it with vegetables, protein, and your favorite sauce.
Soup or Chili: Heat up canned soup or chili for a warm and hearty midday meal. Serve with crackers or crusty bread.
Appetizing Dinners
The perfect end to a fantastic day is the right dinner.
Spaghetti with Tomato Sauce: Boil pasta and heat canned or pre-made tomato sauce. Add some grated cheese and herbs for extra flavor.
Stir-Fry: Pack pre-cut vegetables and your choice of protein (chicken, tofu, shrimp) along with a stir-fry sauce. Cook it all together in a skillet for a quick and nutritious dinner.
Foil Packet Meals: Create foil packets with your choice of meat or fish, vegetables, and seasonings. Seal them tightly and cook them for a flavorful and easy-to-clean dinner.
Tacos: Cook ground beef, chicken, or beans in a skillet and serve with taco shells and various toppings like lettuce, cheese, salsa, and sour cream.
Kebabs: Skewer marinated meat or tofu, along with vegetables, and cook them. Serve with rice, couscous, or pita bread.
Dessert Delights
Don't forget about dessert when you're planning the meals.
Campfire Banana Boats: Slice a banana lengthwise and stuff it with marshmallows and chocolate chips. Wrap it in foil and heat it.
Apple or Peach Crisp: Prepare a simple fruit crisp by mixing canned or fresh fruit with oats, sugar, and cinnamon. Cook it in a skillet until it's bubbly and the top is crispy.
Campfire Cones: Fill waffle cones with mini marshmallows, chocolate chips, and any other favorite toppings. Heat until the ingredients melt.
If you're planning on camping, think carefully about what you're going to eat and how you're going to cook it. Make sure you have a way to heat the food, especially if a campfire may not be allowed or convenient. A camp stove may be the perfect option and may be just what you need to make the trip an even more memorable event. Pick out the right stove, then have fun planning all of the delicious meals you'll enjoy during the trip.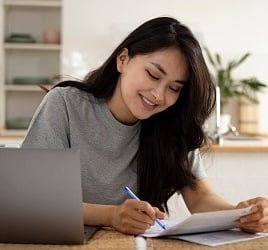 Amanda Byers is a graduate of Columbia, where she played volleyball and annoyed a lot of professors. Now as Zobuz's entertainment and Lifestyle Editor, she enjoys writing about delicious BBQ, outrageous style trends and all things Buzz worthy.