Are you tired of the grind at the corporate dental office? Maybe you've got a knack for aesthetics and are wondering what it takes to become a cosmetic dentist.
If you look around, you'll likely see a tooth or two that could use cosmetic TLC. Contrary to popular belief, dental problems aren't reserved for just the elderly. Anyone can suffer a cracked tooth or an embarrassing condition called tooth decay.
In this post, we will show you how to become a cosmetic dentist and start your own practice. Want to hop on this bandwagon of lucrative fulfillment and do some good for those smilin' jaws? Read on!
Obtain a Dental Degree
To become a cosmetic dentist, the first step is to get a dental degree. This involves completing a bachelor's degree and then attending dental school. This usually takes about four years.
During dental school, students learn about oral health, dental procedures, and how to care for a patient's teeth. It provides a solid foundation in dentistry and prepares individuals for their future careers.
Gain Experience
After obtaining a dental degree, aspiring dentists can work in dental clinics or private practices to gain practical experience. This hands-on experience allows them to refine their skills, build confidence, and develop a deeper understanding of patient care.
Many dentists choose to work as general dentists first, treating a wide range of dental issues before specializing in cosmetic dentistry. This experience not only helps them become proficient in their craft but also enables them to establish a strong rapport with patients, providing them with the foundation for a rewarding dental career.
Pursue Advanced Training
After gaining experience, dentists can opt for specialized training programs in cosmetic dentistry. These programs focus on advanced techniques and the latest innovations in the field. This allows dentists to hone their skills and stay updated with emerging trends.
Dentists should invest in ongoing education and learn from experienced professionals. This ensures a successful and fulfilling career as a cosmetic dentist.
Obtain Certification
Dentists can seek certification from reputable dental organizations specializing in cosmetic dentistry. This certification verifies their expertise and ensures they meet the industry's high standards. Once certified, dentists can display their credentials. This assures patients that they are skilled and dedicated to providing excellent services.
This certification also allows dentists to stay updated with the latest advancements in cosmetic dentistry. This ensures their patients receive the most advanced and effective treatments available.
You can also visit Desai dental spa homepage, which provides personalized oral health care tailored to your unique dental needs and goals.
Learn How to Become a Cosmetic Dentist Now
Being a cosmetic dentist can provide a satisfying career helping people achieve better self-esteem. If you are passionate about dental care and have the necessary commitment, it can be a rewarding journey.
Take the first step today and begin researching how to become a cosmetic dentist in your area!
Did you find this article helpful? Check out more of our blogs!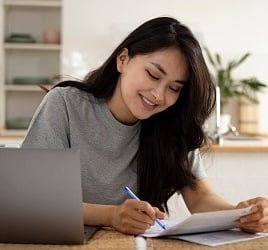 Amanda Byers is a graduate of Columbia, where she played volleyball and annoyed a lot of professors. Now as Zobuz's entertainment and Lifestyle Editor, she enjoys writing about delicious BBQ, outrageous style trends and all things Buzz worthy.