We all know one: the smooth, charismatic, and confident man that every other guy envies. How does he do it?
Well, it isn't easy. Some men are born naturally confident and charismatic (shoutout to all Leos), while most men struggle with confidence at some point in their lives. The cool and confident men you see around probably put in more effort than you think into building higher self-esteem.
The truth is, higher self-esteem is something you have to work at, and there are steps to take to become a confident man.
If you want to learn how to build high self-esteem, keep reading for our seven confidence tips for men.
1. Tune Out the Negative Voices in Your Head
Once you master the art of tuning out negativity, you will put yourself on the path to higher self-esteem. Be mindful of your past rather than discrediting it, and keep your eye on the present.
Having healthy and higher self-esteem means choosing not to buy into ugly remarks said to you in the past and even now. Those negative thoughts, said by others or even by yourself, will never define who you are as a person.
2. Stop Buying Knock-Off Brands
Individuals who opt for knock-off brands may look the part, but studies have found that they developed a lowered sense of self-worth.
When you walk around with a fake Rolex or fake designer belt, you may be constantly worried about the fear of getting called out. While wearing high-quality jewelry and other accessories can temporarily boost your self-confidence, your higher self-esteem will plummet if you get called out on your fake watch.
Some of the wealthiest men in the world don't wear flashy designer clothing. They opt for simple and quality pieces.
For example, Bill Gates is one of the richest men in the world, and he is frequently seen wearing Casio watches. Casio watches, specifically his Casio Marlin watch, retails for around $48.
3. Embrace Your Mistakes
Without mistakes, we don't learn how to progress and become better. Every single person on this planet has made a mistake. It's up to you to be embarrassed or ashamed, or see the mistake as a learning opportunity and embrace them.
The biggest takeaway from any mistake made is asking yourself: What have I learned from my mistakes? What am I going to do differently? How can I prevent this from happening again?
4. Focus on Self Care
The key to higher self-esteem is prioritizing self-care. A confident man doesn't shy away from finding ways to improve his personal appearance. Self-care goes beyond hitting the gym and bodybuilding; self-care includes grooming yourself.
Skincare isn't just for the ladies, so stop using the same bar of soap you use to wash your body to wash your face. Invest in proper skincare products that are designed to target problem areas and accentuate your features.
Consider professional treatments like ones for micropigmentation if you're concerned about a receding hairline.
You should also take great care of your teeth as a pretty smile can help boost your confidence. If you don't have a dentist yet, you can do a quick Google search for a term like "dentist near me kiln creek" and it will give you some options that you can visit.
When you take the time to invest in yourself with resources and grooming products, you'll see a noticeable difference in the way you look and feel. When you feel better about your appearance, you will feel better about yourself as a whole and build a higher self-esteem
5. Practice Gratitude
Gratitude and mindfulness go hand in hand. Without mindfulness, gratitude is just some fix-all bandage.
Practicing gratitude leads to higher self-esteem because it directly and positively impacts you as a whole. First, to practice gratitude, be mindful of your current situation, so you have a true sense of what you are thankful for.
Think about what are the good things happening in your life. Ask yourself: What brings me joy? What am I grateful for? What went well for me recently, and how did I contribute to it? What am I proud of?
When you take the time to think about questions like the ones above, you will better understand yourself and your purpose and put yourself on a path to higher self-esteem.
Here are more mindfulness questions you can ask yourself.
6. Believe You Are Worthy of Happiness
If you want to boost your self-confidence and attract things like success, money, or even romance in your life, you need to believe that you are worthy of happiness.
Your race or ethnicity, sexual orientation, age, or status does not deem worthiness. You are worthy, and believing otherwise will send you into a negative cycle. You are not your past, and you deserve to be happy no matter what.
When you look back at life with regret, you won't see the beauty and opportunities in front of you. You must let go of the things that are holding you back in order to feel happy.
If you're wondering how to have high self-esteem, look and move forward and release yourself from the chains of past unhappiness.
7. Embrace Your Imperfections
We all have imperfections and flaws; it's human nature. When you realize that everyone has something they're self-conscious about, you'll realize you're less alone. Imperfections make us unique, and that's what makes them beautiful.
Just like how you are not your mistakes, you are also not your flaws.
You may not even realize that your so-called "imperfections" aren't even that bad. Instead, choose to focus on your strengths and what makes you feel good about yourself. Sometimes, your weaknesses or imperfections can even be considered strengths.
The key is higher self-esteem is how you see your imperfections. You can choose to wallow in them or choose to use them as ways to become better.
Building Higher Self-Esteem for a More Confident You
While some men are born naturally confident and charismatic, most men struggle with confidence at some point in their lives.
If you want to build higher self-esteem and become an overall more confident man, bookmark this page and keep our seven confidence tips in mind.
You don't need flashy designer duds to build your self-esteem. You need to focus on you and what makes you special and unique.
If you liked this post, be sure to share it with your friends. Got any extra confidence tips? Share them with us in the comments! We would love to know!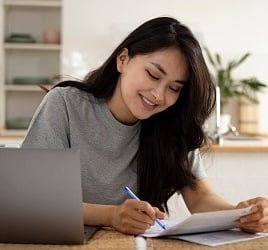 Amanda Byers is a graduate of Columbia, where she played volleyball and annoyed a lot of professors. Now as Zobuz's entertainment and Lifestyle Editor, she enjoys writing about delicious BBQ, outrageous style trends and all things Buzz worthy.