Inflammation is a natural response in the body. It allows the body to deal with foreign objects, such as bacteria. It also protects and heals our muscles and tissues.
Having too much inflammation in the body is dangerous. It leads to an increased risk of cancer, heart disease, and asthma. Plus, inflammation triggers pain.
Keep reading to learn how to reduce inflammation in the body.
Control Blood Sugar
In order to reduce inflammation in the body and control blood sugar, a healthy diet is paramount. Eating plenty of anti-inflammatory foods, such as leafy green vegetables, omega-3-rich fish, and nuts, can help reduce inflammation. It is recommended to cut out processed foods and refined carbohydrates, as these can increase inflammation levels in the body and raise blood sugar levels.
It is also important to ensure adequate hydration by consuming at least 8 glasses of water per day. Furthermore, incorporating daily physical activity can significantly help to reduce inflammation and maintain healthy blood sugar levels.
Make Time to Exercise
Exercise is one of the best ways to reduce inflammation in the body. Regular exercise can help reduce the levels of inflammation-causing substances like cytokines and chemokines while increasing levels of anti-inflammatory proteins.
Engaging in moderate aerobic activity three to five days a week for at least 30 minutes can help reduce inflammation and improve overall health. It is also important to stretch and strengthen muscles and joints. Resistance training and increased flexibility can help reduce inflammation in areas like the hips, shoulders, and knees.
Epidural Injection
A pain management epidural is a form of treatment used to reduce inflammation in the body, usually in the vertebrae or around the spine. Epidural injections help to reduce tissue inflammation and can help ease muscle pain, as well as back pain.
To reduce inflammation through an epidural injection, the affected area is numbed with a local anesthetic, and a steroid is injected into the epidural space. This steroid works to reduce inflammation of the tissue and surrounding nerves.
Once the steroid is injected, the area is then covered with a dressing, such as an ice pack or hot compress, to reduce further inflammation and provide relief from pain.
Go for a Stroll
Going for a stroll is an excellent way to reduce inflammation in the body. Going for a walk for 15-20 minutes a day is highly beneficial for reducing inflammation. Walking helps to increase your heart rate and stimulate your circulation, which ultimately helps to relax the muscles and reduce inflammation.
Doing stretches, such as neck and shoulder rolls, during your walk can help loosen tense muscles and reduce related pain. Furthermore, walking directly stimulates the body's natural anti-inflammatory response, which can alleviate symptoms related to chronic inflammation.
Stop Smoking
Smoking can be damaging to many parts of your body, particularly when it comes to inflammation. Inflammation is the body's natural response to injury or disease, but it can be harmful when it becomes chronic. To reduce inflammation in the body, the first step is to stop smoking.
Smoking introduces thousands of carcinogens into the body, which can cause inflammation to get out of control. Quitting as soon as possible and completely avoiding any other substance(s) containing nicotine will begin to reduce inflammation in the body.
Learn How to Reduce Inflammation in the Body
In conclusion, to reduce inflammation in the body is an important step to improving overall health. Eating an anti-inflammatory diet, supplementing with natural anti-inflammatory herbs, and exercising regularly are great starting points for reducing inflammation.
Did you find this article helpful? Check out the rest of our blog for more!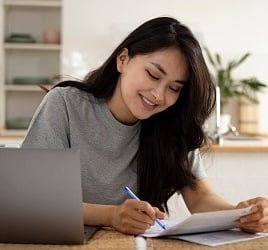 Amanda Byers is a graduate of Columbia, where she played volleyball and annoyed a lot of professors. Now as Zobuz's entertainment and Lifestyle Editor, she enjoys writing about delicious BBQ, outrageous style trends and all things Buzz worthy.