Have you had enough of your stubborn potbelly and have been thinking about getting it removed? Are you considering having an abdominoplasty operation, but the high prices have been holding you back? Do you find yourself asking the question, "Is an abdominoplasty covered by insurance?"
If you answered yes to any of these questions, this article is for you. Keep reading to learn if a tummy tuck is included in your insurance coverage.
How Does an Abdominoplasty Work?
An abdominoplasty is also known as a tummy tuck. It is a cosmetic surgical procedure that removes extra fat and skin from the abdomen. The procedure aims to create a flatter and more toned appearance.
The surgery typically begins with the patient being placed under general anesthesia. The surgeon then makes an incision along the lower abdomen. Then, they tighten the underlying muscles, creating a firmer abdominal wall.
Excess skin and fat are then removed. The remaining skin is pulled downward and sutured together, resulting in a smoother and slimmer abdomen. The whole process usually takes a few hours and can greatly improve the appearance and confidence of the patient.
Is an Abdominoplasty Covered by Insurance? An Overview
In general, abdominoplasty is considered an elective cosmetic procedure. Therefore is not typically covered by insurance. However, there are certain situations where insurance may cover the cost. In some cases, insurance may cover the cost of an abdominoplasty if it is medically necessary.
How to Get Your Insurance Company to Pay
First, consult your policy to see if it covers abdominoplasty and what specific requirements are necessary. You may need to provide documentation from your doctor proving that the procedure is medically necessary. It is also important to have a detailed treatment plan and a clear explanation of how the procedure will improve your health.
Finally, be persistent and advocate for yourself by appealing initial denials and providing more evidence if necessary. By following these steps, you can increase your chances of getting your insurance company to pay for your abdominoplasty.
Alternative Way on How to Pay
There are several alternatives available to help you in paying for surgery. One option is to use a medical credit card or financing plan, which allows you to spread out the cost of your surgery over time. Another option is to look into potential discounts or payment plans offered by your chosen surgeon.
You could also explore the possibility of using a health savings account or flexible spending account if you have one available. Finally, you could also consider applying for a personal loan or using savings or funds from a retirement account. Whatever option you choose, you need to consider your finances and discuss all options with your tummy tuck surgeon.
There Are Many Ways to Afford an Abdominoplasty
So, is abdominoplasty covered by insurance?
While an abdominoplasty can be a life-changing procedure for many, it is not typically covered by insurance. However, it is important to research your specific insurance plan and speak with your provider to explore options.
Remember to prioritize your health and well-being. Don't hesitate to take action and consult with a trusted physician to determine the best course of action for your needs.
Did you find this article helpful? If so, check out the rest of our site for more!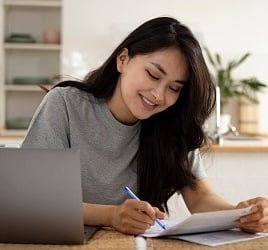 Amanda Byers is a graduate of Columbia, where she played volleyball and annoyed a lot of professors. Now as Zobuz's entertainment and Lifestyle Editor, she enjoys writing about delicious BBQ, outrageous style trends and all things Buzz worthy.