Do you wear dentures, or are you thinking about doing so?
If so, you might have questions about the dentures available. Some of the options are more complicated than others.
Once fitted by a dentist, you will be able to eat and talk again, like normal. There will be some adjustments you will have to make, but if you understand what you're getting into, it'll be easier.
Here's some information on the different types of dentures and how they affect you.
Traditional Full Dentures
Traditional full dentures are one of the best dentures available used by individuals who have lost all or most of their natural teeth. It is designed to replace all teeth on both the upper and lower jaws, providing a complete set of prosthetic teeth. These are custom-made for each individual, ensuring a comfortable and natural-looking fit.
They are made from high-quality materials and are durable enough to withstand daily use. Whether due to aging, disease, or injury, traditional full dentures offer a reliable solution for those seeking to restore their smile. It can also improve their ability to eat and speak with ease.
Immediate Dentures
Unlike traditional dentures, which are placed after the gums have healed from extraction, immediate dentures are inserted immediately after teeth removal. It provides the patient with the appearance of a complete set of teeth during the healing process. This can be an excellent option for those looking to avoid a period without teeth and for aesthetics and functionality.
However, it may need adjustments as the gums heal and shrink. After the healing process is complete, a new set of dentures may need to be made.
Partial Dentures
They consist of a metal or acrylic framework that supports the artificial teeth and the remaining natural teeth. Partial dentures are custom-made for each individual and can be removed for cleaning and maintenance.
They not only improve the appearance of the smile but also help with chewing and speaking. With proper care and regular dental visits, partial dentures can last several years, making them a popular and practical choice for those missing only a few teeth.
Overdentures
Overdentures are considered a more stable and comfortable option than traditional dentures, as they can use the support of the remaining teeth or implants. They can also help preserve the jawbone and prevent bone loss.
This can be easily removed for cleaning and maintenance. This makes it a convenient choice for individuals who have lost most of their natural teeth.
Smile With Confidence and Explore the Different Types of Dentures
Understanding the different types of dentures can help you regain confidence and smile proudly again. Whether you need full or partial dentures, each type offers a unique solution. Choose and decide what kind of denture fits you.
Don't hesitate to consult a dentist and explore your options to find the perfect fit for your smile. Schedule an appointment today and take the first step towards smiling confidently again!
Visit our page and keep scrolling to discover more life tips and advice on this blog.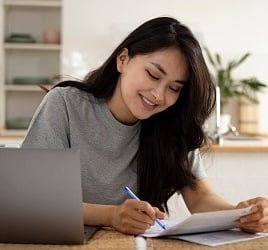 Amanda Byers is a graduate of Columbia, where she played volleyball and annoyed a lot of professors. Now as Zobuz's entertainment and Lifestyle Editor, she enjoys writing about delicious BBQ, outrageous style trends and all things Buzz worthy.