No one wants to be treated alike. Every consumer is unique and is expecting more. They want services tailored to their needs. They don't want time lags, they want fast, personalized services. Times have changed and more brands are adapting themselves to that change. And the customer servicing is also having a paradigm shift.
Brands are accepting the fact that traditional IVR is outdated. They have made their turn towards Visual IVR. This newer technology provides a better experience that customers love. Let's look at why personalization makes Visual IVR so important.
Making Customers Happier With Visual IVR
Today's customers have much higher expectations for service. Recent surveys show that 80% are willing to use visual IVR. They prefer it over old-fashioned touch-tone phone menus. Visual IVR provides better customer experiences. This is because visual IVR has abilities that traditional IVR lacks.
It can provide visual menu options on the screen. It can also get context from customers during calls. For example, one large telecommunications company implemented visual IVR. This system displays account details when customers call in. It shows self-service options to choose from visually.
Their customizable interface enabled twenty-three percent more customers to handle simple tasks themselves. These customers did not have to wait for a live agent anymore. Visual IVR makes interactions much smoother for customers. It makes the process more efficient compared to traditional IVR phone trees.
This reduces customer wait times significantly. Visual IVR features like visual menus are big improvements. Customers feel it is easier to get information and solve issues. Traditional IVR phone menus are more confusing and take longer. Customers get frustrated with long wait times. Visual IVR makes self-service faster and simpler for customers.
The global IVR industry will grow rapidly in the coming years. It's projected to reach 6.7 billion dollars by 2026. Much of this fast growth will come from visual IVR solutions. More companies will invest in this technology. Customers prefer the visual IVR experience over traditional IVR.
The Benefits of Visual IVR
In 2022, the IVR market was valued at $4.7 billion and is expected to reach $6.2 billion by 2028, growing at 4.57% CAGR. The following chart illustrates the projected global market of IVR.
Much of this growth will come from visual IVR adoption. Implementing visual IVR provides many benefits.
Brands can shape positive customer perceptions. This is done through tailored, visual journeys. These convey quality service. This enhances brand image and satisfaction.
Contact center productivity increases with visual IVR. Self-service rates of 50-70% are possible. Interactive visual menus guide customers. This results in major efficiency gains.
Cost savings of $0.10 to $0.50 per automated call add up. When call volumes multiply, savings are big. Automating calls with visual IVR reduces labor costs. Agents are not needed. Return on investment comes in 6-12 months.
Customer satisfaction goes up with visual IVR. Smooth, personalized interactions delight users. Wait times are reduced. Self-service is efficient. Satisfaction rises by over 20%. Brand loyalty also increases.
Visual IVR provides customer analytics. These offer insights to optimize IVR structure. Continued improvements are possible this way.
While operational benefits are big, the strategic advantage is personalization. Visual IVR enables this much more than traditional IVR can.
Personalized Experiences: The Heart of Visual IVR
Generic IVR systems often create negative experiences for customers. This is because they provide confusing menu options and repetitive voice prompts. This can make them frustrated when they can't find what they are looking for. In contrast, visual IVR is able to deliver smooth, seamless interactions.
This can be completed entirely without the need for agent assistance. It provides visual menus and touchpad navigation. In this way, customers can self-serve in an intuitive manner. This makes the customer experience more personalized and satisfying.
One of the key advantages of visual IVR is tailoring personalized interactions. For this, they make use of individual profiles and history. For example, Netflix was able to develop a visual IVR system that greets users personally by name. It also displays personalized menu options.
Similarly, Salesforce designed an AI-powered visual chatbot called Einstein Bot. It analyzes customer data to provide customized product recommendations. And also provides helpful suggestions during visual IVR interactions. This level of personalization enhances engagement and satisfaction.
These examples demonstrate the immense potential of visual IVR to serve customers. They are the future of personalized, efficient, and fully self-service.
Addressing Challenges and Offering Solutions With Visual IVR
While Visual IVR provides a modern evolution to legacy IVR systems. It also poses some implementation and usage challenges:
High abandonment rates: Visual menus may appear confusing without proper guidance. Providing demos and tutorials preemptively can enhance convenience.
Overdependence on agents: Customers may still opt for agent assistance. Incentivizing Visual IVR usage through promotions helps increase automation rates.
Inefficient data utilization: Many organizations struggle to derive insights from customer data. This affects personalizing interactions. Partnering with experienced analytics firms solves this barrier.
Another common concern is data privacy during Visual IVR usage. Addressing these challenges unlocks Visual IVR's true potential.
Ensuring Data Privacy With Visual IVR
With advanced personalization comes increased customer data usage. This raises valid privacy concerns that businesses must address when implementing Visual IVR:
Customers may hesitate to provide personal information. If it's unsure how it will be used. Transparency about data practices is important.
Data security is critical. Encryption, access controls, and strict policies prevent breaches that erode trust.
Consent should be obtained before capturing customer data.
Customers should have options to access or delete their data per privacy rights.
Only essential data should be collected. Extra details beyond what is needed for personalization increase risk.
Audit logs monitoring Visual IVR data access can identify unauthorized system misuse.
Visual IVR, with secure data handling, offers personalization and respects privacy. When done right, it builds trust and engagement.
The Future Trajectory of Visual IVR in Customer Service
Visual IVR is still in its growth stage. In the future, technologies like VR, AR, and voice analytics are said to integrate with Visual IVR. This will enhance personalization. Over 85% of customer interactions will be handled without human agents by 2025. This will be enabled by innovations in Visual IVR.
Customers demand more advanced self-service options. Visual IVR systems will evolve to mimic human-like conversations. At present the visual IVR is being adopted on a large scale. The next decade will witness Visual IVR becoming a mainstream customer service channel. Businesses need to continually invest in platform enhancements. They should also conduct agent training to extract maximum value in this journey.
Final Thoughts
Personalized experiences are what set Visual IVR apart from old IVR tech. Custom menus and tailored journeys please customers while optimizing costs. There are challenges, but innovations outnumber them. Brands need to embrace personalization and unlock the potential of Visual IVR.
Let me know your thoughts on Visual IVR personalization! How can brands deliver better self-service?
FAQs
How does Visual IVR keep user data secure?
Data is secured using:
Encryption
Tokenization
Strict access controls
Transparent privacy policies
Can Visual IVR work globally with multiple languages?
Top Visual IVR platforms have speech recognition and translation capabilities. Some let users switch languages easily mid-call.
What analytics capabilities does Visual IVR provide?
Visual IVR offers rich analytics into customer journeys. This includes:
Path analysis showing common choices
Dropout rates at different steps
Time spent on each menu
Usage trends over campaigns
These insights help optimize IVR structure for better experiences. AI can even auto-analyze data to suggest improvements.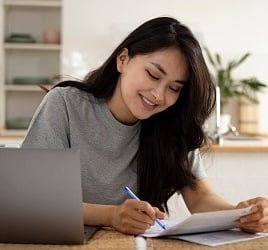 Amanda Byers is a graduate of Columbia, where she played volleyball and annoyed a lot of professors. Now as Zobuz's entertainment and Lifestyle Editor, she enjoys writing about delicious BBQ, outrageous style trends and all things Buzz worthy.