Cosmetic dentistry is all about making people's smiles look better. Becoming a cosmetic dentist could be a great choice if you like dentistry and want to help people have prettier smiles.
Cosmetic dentists use various techniques to fix teeth that are discolored, crooked, or damaged. They can whiten teeth, braces, or veneers to make smiles more attractive.
Cosmetic dentistry is a fulfilling career where you bring confidence and happiness to people by enhancing their smiles. Read on to learn the main steps on how to become a cosmetic dentist!
Earn a Bachelor's Degree
Before becoming a dentist, you must finish your bachelor's degree. You can pick any major, but a successful dentist studies biology, chemistry, or something similar. Doing well in your college classes is essential to get into dental school later.
Pass the Dental Admission Test (DAT)
To get into dental school, you must pass DAT. This test checks what you know about science, how well you understand things, and your math skills.
Your DAT scores and how you did in your college classes are critical when applying to dental school. If you want to do well on the test, purchase this DAT destroyer prep book to help you pass the exam.
Attend Dental School
Once you're accepted into dental school, you'll spend four years there to earn your Doctor of Dental Medicine (DMD) or Doctor of Dental Surgery (DDS) degree. In dental school, you'll learn many things, like how the body works, what dental materials to use, and how to spot oral problems.
You'll also practice treating patients with the help of experienced teachers. It's like a big learning journey to become a dentist!
Obtain Licensure
Once you finish dental school, you must get a dental license to legally work as a dentist. The rules for bringing a claim can differ depending on where you want to work, like in other states or countries.
Usually, you'll have to pass tests, both written and hands-on, to get your license. Make sure to check what exactly you need to do in the place where you want to practice.
Gain Experience
Before specializing in cosmetic dentistry, gaining experience as a general dentist is essential. Working in a general practice will provide you with a broad foundation of dental knowledge and clinical skills. This experience is valuable as it will enhance your ability to diagnose and treat dental issues, including those related to cosmetic dentistry.
Pursue Advanced Training
Cosmetic dentistry is a specialized field, and you must pursue advanced training and education to excel in it. Many dentists choose to complete postgraduate programs or residencies in cosmetic dentistry. These programs focus on cosmetic procedures such as teeth whitening, veneers, dental implants, and orthodontics.
Learn How to Become a Cosmetic Dentist Today
Becoming a cosmetic dentist is a great way to improve people's smiles and boost their confidence. Follow these steps on how to become a cosmetic dentist to start a meaningful career that makes a positive difference in people's lives.
Stay curious and learn as you go along in your career. New dental techniques and technologies are always coming out. So, stay updated so you can make smiles beautiful and make your patients happy for a long time.
Did you find this helpful? If yes, visit our blog for more useful information.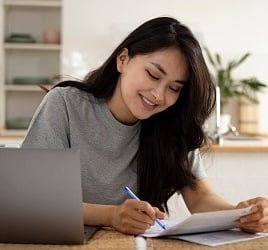 Amanda Byers is a graduate of Columbia, where she played volleyball and annoyed a lot of professors. Now as Zobuz's entertainment and Lifestyle Editor, she enjoys writing about delicious BBQ, outrageous style trends and all things Buzz worthy.