Are you looking for the perfect little accessory to pull any look together? Do you wonder how to style your rose gold dangle earrings?
Everyone should have a pair of dangling earrings in their accessory drawer – or on their ears! You never know when you'll need something sparkly for a formal occasion or to brighten up a casual outfit.
Keep reading for several ideas on how to wear these gorgeous earrings daily!
Pair Your Rose Gold Dangle Earrings With Outfit Basics
Rose gold dangle earrings are a great way to elevate any outfit. To ensure that your earrings are the focal piece, pair them with outfit basics such as a simple t-shirt, jeans, and a leather jacket. Add a pair of white sneakers or ballet flats to keep it casual.
For something a bit more dressy, try wearing them with a long-sleeved blouse and skirt or an off-the-shoulder top and trousers. These simple foundations will allow the earrings to be the star of the show.
A fun patterned scarf, a designer bag, or a bright make-up look will all add the perfect final touch to your outfit.
Get Creative With Unique Color Combinations
When styling rose gold earrings, there are endless possibilities to get creative with unique color combinations. Try matching your shades with pale pastels for a muted, feminine look, or go bold with bright colors for an eye-catching statement.
Cool tones like blue, greens, and purples look great with rose gold's warm tones, while warmer tones like orange, yellow, and red create a stunning contrast.
Mix and Match Rose Gold Dangle Earrings With Other Jewelry
Styling rose gold dangle earrings with other pieces of jewelry is an easy and fun way to elevate any look. To create a bold statement, try matching your earrings with a bold bangle bracelet and statement piece necklace.
You may also want to choose rose gold jewelry pieces or mix them up with different tones of silver, gold, or even copper for a more eclectic look. Some of the best types of jewelry to mix with dangle earrings include cuffs, hoop earrings, charm necklaces, and statement rings.
Fashionable Hairstyles to Complement Your Earrings
For an elegant and timeless look, a classic updo is the perfect choice; pair it with a floral headband for an extra touch. For a modern yet romantic look, try a loose and tousled updo. To complete the look, add a few braids or pin it back with a few clips.
A braided ponytail is a great way to show off your earrings while keeping hair out of your face. For short hair, bohemian waves are a great option to frame your face and show off your earrings.
Lastly, a half-up style with curls is an effortless way to look chic and put all the focus on your earrings. With these hairstyles, your rose gold dangle earrings will be the main attraction.
Show Off Your Style With Rose Gold Dangle Earrings
Your rose gold dangle earrings can be a statement piece in any outfit! Combining texture, shine, and personality, they make a unique addition to your jewelry collection. With the tips in this guide, you can confidently style your fabulous earrings.
Get creative and put your personal touch into each outfit. Shop now for your own amazing rose gold dangle earrings to show off your style!
If you like this article, check out more fashion tips on our blog!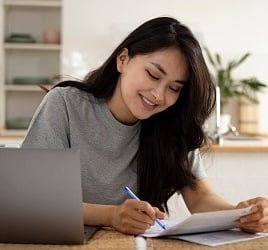 Amanda Byers is a graduate of Columbia, where she played volleyball and annoyed a lot of professors. Now as Zobuz's entertainment and Lifestyle Editor, she enjoys writing about delicious BBQ, outrageous style trends and all things Buzz worthy.